As the demand for personal hygiene increases during this worldwide epidemic, many people worry about access to clean restrooms. COVID-19 recommendations tell us to do thorough handwashing to ward off any germs. Many people are considering installing sensor technology. As well as contactless utilities in public and private areas for this exact reason. This innovative device may soon become standard in all public restrooms. It will help minimize the spread of disease.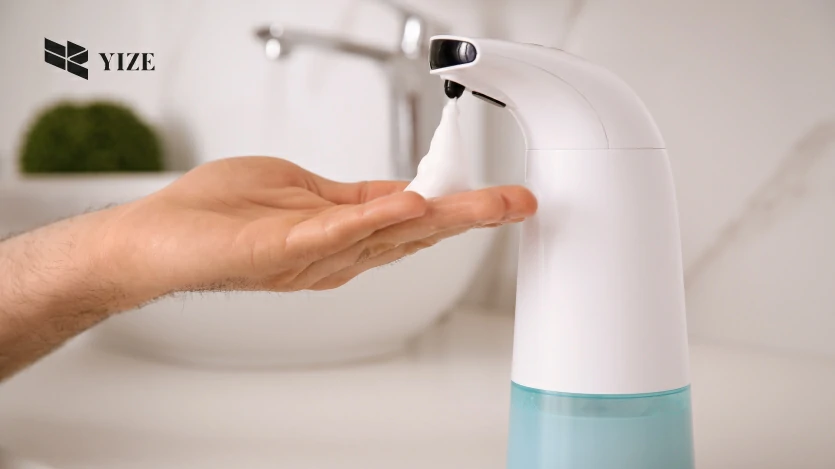 A bathroom's most-used fixtures are the sink faucet, soap bar, and liquid soap dispenser. Because of this, there are more germs in these places than in the bathroom itself. The situation gets dirtier when someone washes their hands after using the restroom. The pump's nozzle for the soap dispenser, the faucet's handle, and any other surfaces the people touches are all at risk of contamination. Automatic soap dispensers are a great way to make the bathroom experience more convenient and hygienic in this context.
They are a great addition to any bathroom. As they allow you to dispense the amount of soap you need without having to deal with messy soapy hands. Automatic soap dispensers also help save money. They reduce the amount of soap wasted by users who don't have control over how much soap they use.
Looking for a new automatic soap dispenser for your home or work?
There are many benefits associated with using these products. This article will discuss why you should invest in an automatic soap dispenser. And how it can help you save money over time.
How Does an Auto-Soap Dispenser Work?
An automatic soap dispenser is a device that mechanically dispenses liquid hand soap. It works by sensing. When you place your hands under the spout, it distributes the liquid soap onto your hands. You can activate the dispenser by waving your hand over a sensor or pressing a button. It uses motion sensors to pick up on things. For instance, a user's waving hands or their body's infrared heat signature. It senses motion. And then administers the appropriate quantity of liquid soap solution or foam soap.
It only releases a predetermined volume of liquid each time. That means that the owner may save money and avoid waste.
The majority of the time, automatic soap dispensers are:
Attached to the wall
Behind the mirror
Below the counter
Owners can achieve better accessibility and less clutter. And a more elegant outlook with the correct installation of automatic soap dispensers.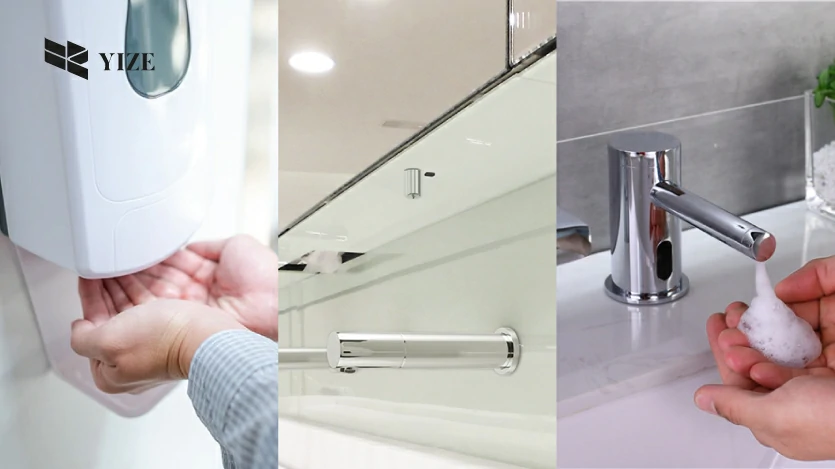 Why Do You Need a Soap Dispenser with Automatic Dispensing?
The cleaning industry is striving for cutting-edge technology. As sensors and data collectors become standard in everyday gadgets, modern consumers may rely on these hygienic additions to perform as expected. These days, you may get liquid soap dispensers in various styles.
Not only are contactless dispensers beautiful. They also offer a variety of styles and colors. That means that everyone can find something that works with the decor in their home. You can find automatic soap dispensers in various sleek, modern designs to complement any bathroom decor.
If you are looking for a new way to make your life easier, consider investing in an automatic soap dispenser. These machines are great for those who have difficulty reaching their sink. Or for those who have arthritis and cannot get their hands far to grab a soap.
If you have kids at home, then you know how messy things can get in a matter of seconds. This will also be a great investment for children who are still learning how to wash their hands. It will help teach them how important it is to wash their hands before eating.
For both homes and businesses, automatic soap dispensers provide several advantages. You can go right with installing an automated soap dispenser in your house or place of business if you're trying to up your cleanliness and sanitation game.
11 Good Reasons to Invest in an Automatic Soap Dispenser
1. Hygiene
When it comes to cleanliness, a touchless device is essential. An automated soap dispenser is a great way to prevent the spread of germs from one user to the next. Many public locations, such as airports and restaurants, feature automated liquid soap dispensers. Many individuals using the same facilities increase the potential for spreading infection.
There will be far less opportunity for spreading germs with automatic soap dispensers in all public buildings. Nothing beats a touchless dispenser system when it comes to heavy foot traffic.
But its usability is more than out there in public areas. Soap dispensers in every given home disseminate germs. Even with a family member, it is no longer acceptable to take such a risk. Even though it might not have been so concerning before the pandemic. An automated soap dispenser will avoid this problem and make hygiene much simpler.
2. Environmental Friendly
An automatic soap dispenser can help reduce waste. It provides only the amount of soap you need each time you wash your hands. They cut the risk of pouring out large amounts at once. It can also end the risk of soap going down the drain or clogging up pipes if not disposed of in a proper way.
3. Cost-effective
Standard soap dispensers sometimes give out too much soap by accident. And we often have to figure out how much soap we need to clean our hands. You may save money with a sensor soap dispenser. Because it is set to dispense only the amount of liquid soap solution you need.
4. It's simple to keep up
Automated hand soap dispensers reduce maintenance time and effort for several reasons. Traditional soap dispensers might leak. They may leave behind residue, while bar soap can leave imprints in the container. A sensor soap dispenser is different from this. Besides, the amount dispensed from standard bottles varies. It depends on the pressure utilized, necessitating frequent refills. You can do this job less often if you install an automatic liquid soap dispenser that can hold more soap at once.
5. Classy and adaptable
A hand soap dispenser that works on its own can make any bathroom look more modern. We can use them for more than liquid soap as their designs are usually simple and stylish. An automatic soap dispenser works well with hand sanitizer, shampoo, and body lotion. We can also put it in the kitchen or laundry room. It can dispense things like dishwasher soap or laundry detergent.
6. Seamless Functioning
Automated soap dispensers provide speedy operation. They don't use a traditional bar of soap. Which eliminates the need for constant cleaning and waste.
Most modern soap dispensers have infrared sensors. They release a precise product dose onto the user's hand. The best thing, it doesn't require physical touch. The procedure is easy and effective. The refilling process is also straightforward.
7. Regulate Usage
The ability to regulate soap use is another advantage of automated soap dispensers. When lathering up, many individuals need to be aware of how much soap they are using. Automatic soap dispensers ensure you never use too much or too little soap.
8. Multifunctional
Automated dispensers are about as flexible as you can get. As they meet the needs of your business.
The dispenser's well-thought-out design lets it work with any liquid. Like soap, lotion, laundry detergent, dishwashing liquid, and so on. The various applications of a dispenser allow it to be put in settings other than a restroom.
9. Durable
Automatic soap dispensers don't have buttons or pumps, so they are durable and last a long time. They have a long lifespan since they don't break down. Unlike with standard pumps, there is no risk of clogging from soap residue or excessive usage.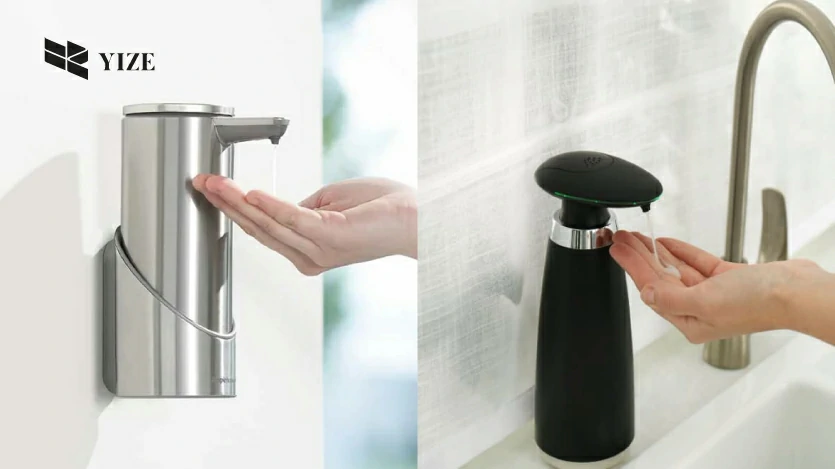 10. Simple set-up
Putting in a new automatic soap dispenser is a breeze. The inclusion of detailed instructions simplifies the installation process for most devices. To function, many soap dispensers need either electricity or battery power.
11. Automatic Soap Dispensers Can Be Fun!
The kids will love it! Kids love playing with gadgets. So you'll have fun watching them try to figure out how it works. You can enjoy their reaction when they use it for themselves for the first time!
Plus, automatic soap dispensers are a lot of fun. They're like having your robot in your home — keep your hand under the button, and presto! Clean hands!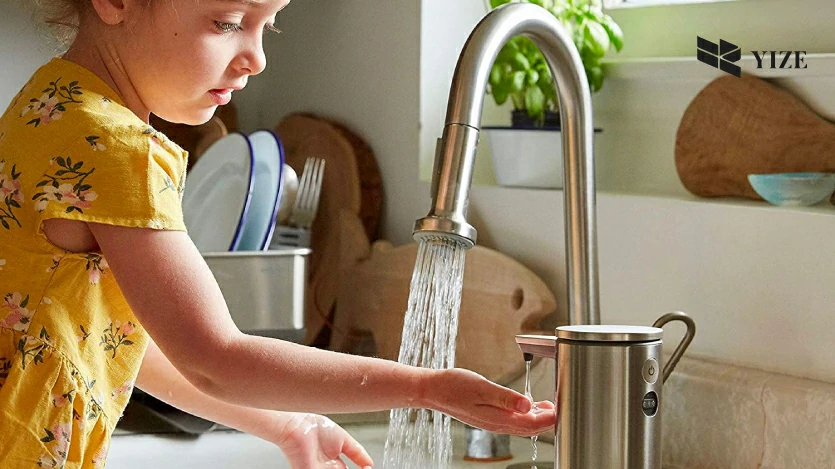 Maintaining Automatic Soap Dispensers
An automated soap dispenser is convenient because it requires little upkeep. There are a few basic things you can do to prolong the life of your automatic soap dispenser:
Keep a clean towel handy and wipe off the dispenser
Check and replace batteries whenever necessary.
Check to see whether the dispenser is malfunctioning and if so, repair it.
Maintain the dispenser's functionality by keeping it clear of obstructions.
Tips for Buying a Quality Automatic Soap Dispenser
Buying the right automatic soap dispenser for your home is a good idea. You can get many benefits from a quality automatic soap dispenser. Here are some tips for choosing a quality one:
Wall-Mounted vs. Countertop
The first thing you need to decide is whether you want a wall-mounted or countertop model. Wall-mounted models are good. They take up less space, but they are not as convenient if you want to refill them often.
Countertop units are the most common type used in homes. Like pump soap dispensers, they sit on the side of the sink and squeeze soap into your hands. The only difference is that they do this automatically rather than manually. Automatic soap dispensers for countertops come in a variety of styles and don't need to be set up.
The size of the product is important
Make sure your bathroom has enough room for the automatic soap dispenser you want to buy.
Look at the design of the product
The design should be attractive and simple so that it will blend well with your bathroom's décor.
Battery Operated vs. Rechargeable
There are also two types of batteries used in most automatic soap dispensers.
disposable batteries
rechargeable batteries
Disposable batteries can be replaced when they run out of power. While rechargeable batteries usually come with a charging cable.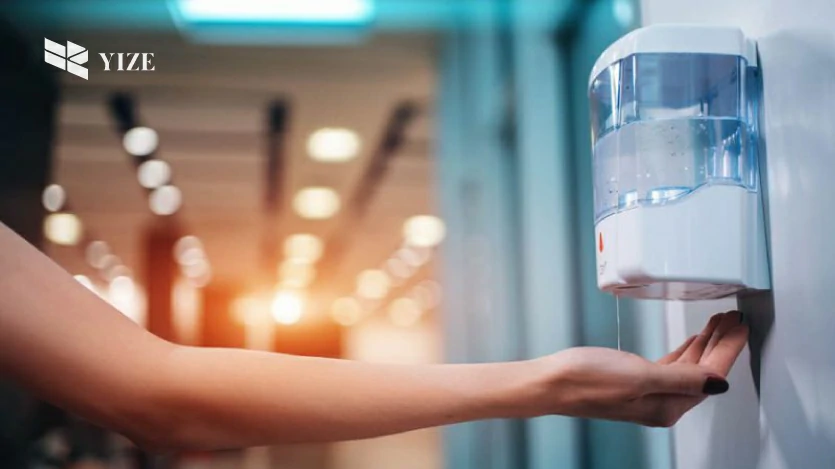 Bottom Line
As you can see, there are many reasons why you should invest in an automatic soap dispenser. Not only does it save money and time, but you will also be able to clean your hands more efficiently. Businesses and public spaces can protect their customers' health. They can stop the spread of germs, with the no-touch feature and its smart sensor technology. Hopefully this article can help you find the automatic soap dispenser.