2023 is almost upon us, and with a new year comes a new look. One of the ways you can bring a new look to your home is by redoing the interior themes, colors, and tiles. This, of course, includes the shower area as well. An exciting change in the preferred color theme for shower tiles is also emerging. By renovating your shower according to the new trends, you will increase the value of your house. This will also help you create a relaxing environment for your showers. In this brief, we will tell you all about the new changes and trends in shower tiles you can expect in 2023.
What Color Pallet for Tiles Will Be on the Rise in 2023?
We can expect warm and bold color pallets to be the favorites in 2023. The prevalent neutral color tones are becoming old news. It is now time for more colorful shower tiles to shine. The most favored colors are deep shades of blue, red, and yellow. These bold color schemes allow you to impart your own personality. This also helps add sophistication to your shower, creating a relaxing environment. There is no need to worry about the bolder color pallets feeling overwhelming either. This is because showers are generally small, so bold colors look more concentrated.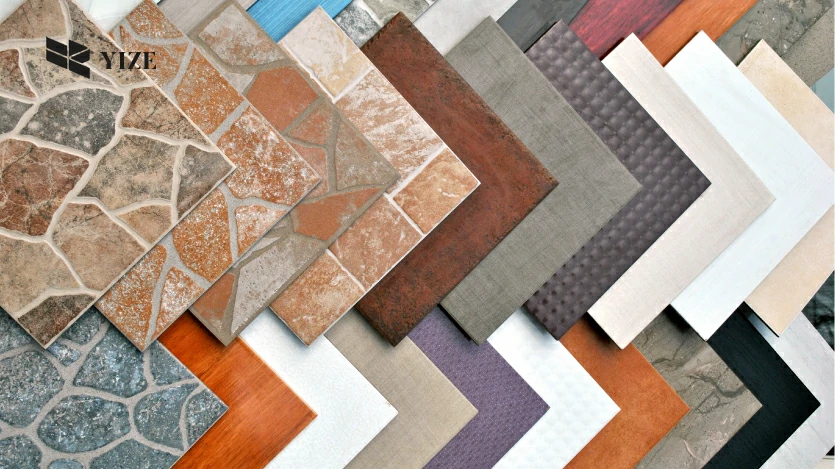 What Shower Tile Trends Will We See in 2023?
We can expect to see all kinds of new and exciting shower tile trends in 2023. We have compiled a list of all the shower tile trends of 2023 for you to pick from as per your preference.
Terracotta Tiles
Terracotta tiles are on the rise in the home design industry. This is thanks to their unmatchable coziness and warmth. You can install terracotta tiles on your shower floor and walls to give a uniform feel. A nice finish over the tiles after the installation will provide a glossy look to your shower. This type of tile is a great fit for a classic theme while still creating elements of modernism. As a plus, terracotta tiles are pretty cheap and easy to install. So expense won't be too much of a problem.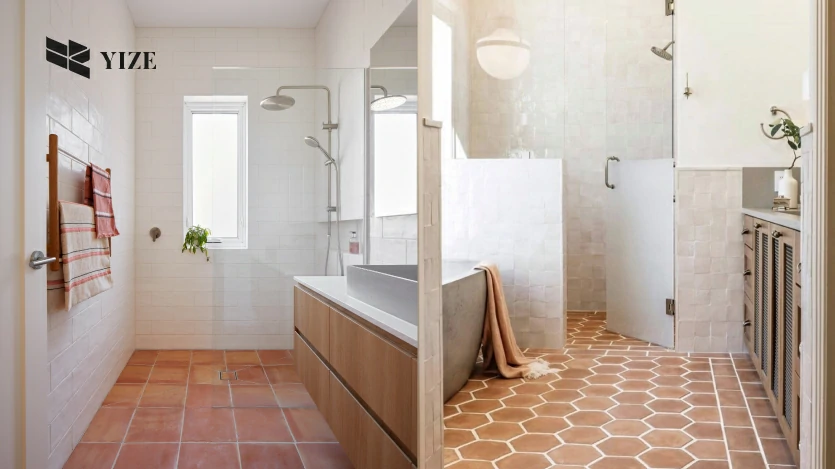 Flute Shaped Tiles
A lot of focus is being placed on texture by home designers, and we expect this to remain the same in 2023. Flute-shaped tiles are very popular thanks to the depth and uniformity they provide. This tile type consists of pencil-trimmed pieces featuring all kinds of simplistic designs. So you can create flowing patterns that give a nice dimension to your shower. Also, the curved edges provide a much softer look than traditional tiles. With flute-shaped tiles, you can let go of the boring flat walls.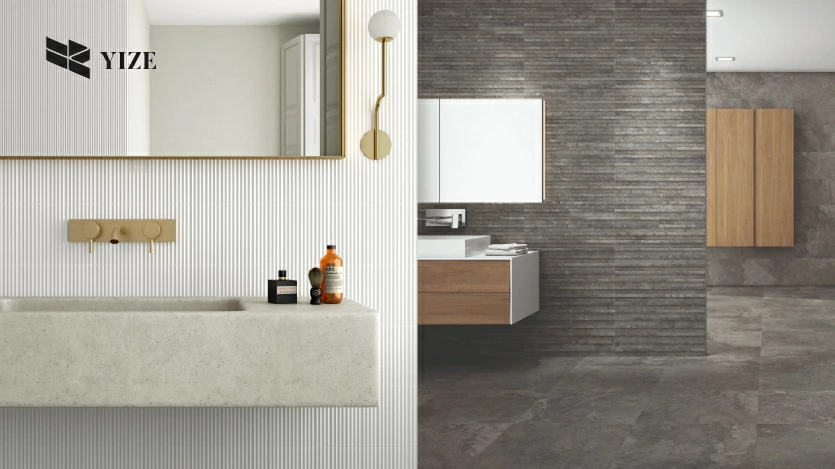 Terrazzo
Terrazzo tiles are usually made up of stones or marble mixed in with cement. This creates a beautiful mix of colors and designs. Terrazzo-design tiles capture this beauty while still being more durable and cheaper. Their unique design is ideal for retro themes but also works well with a rustic shower theme. Although terrazzo tiles fell out of fashion in the past few years, it is making a comeback in 2023.
So you can expect it to be a go-to choice for most home designers in the coming years regarding showers. A great thing about terrazzo tiles is that they come in various colors and styles to pick from. So you can personalize your shower to your heart's content. Additionally, they are very durable, allowing for both commercial and residential applications.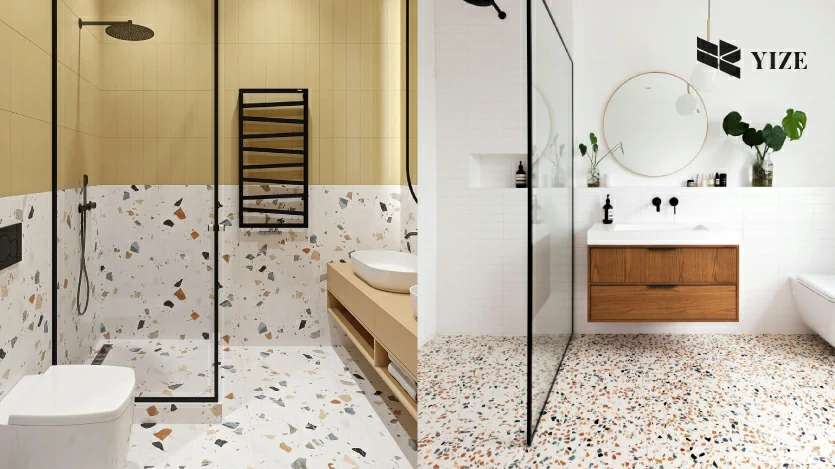 Large-Scale Florals
Gone are the days when floral tiles and decorations were only something your grandma liked. Large-scale floral tiles are making a huge comeback. We expect them to be a popular option for shower design in 2023. By using shades of green and blue, this tile type creates a naturalistic environment for you to relax. The organic feel of floral tiles is great for a more nature-focused shower theme. Large-scale floral tiles look gorgeous as wall tiles, floor tiles, or backsplash tiles. They also mix well with other nature-focused tile types, such as wood-themed tiles.
Wood-Themed Tiles
Tiles with a wooden theme are another way to give your shower a naturalistic look. You can find wood-themed tiles made of porcelain, glass, and marble for your shower. This tile type is low maintenance which is a plus. Additionally, you get to choose between a near-infinite number of design options. We recommend going for plank design as it gives a warm look that anyone will fall in love with.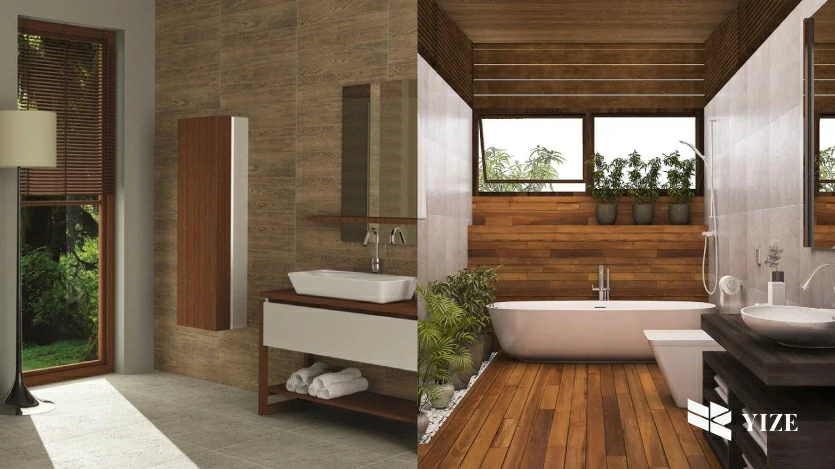 Hand Crafted Tiles
You can expect to see a rise in the popularity of hand-crafted tiles in 2023. This is because of the incredible detail and texture this tile type boasts. This greater attention to detail helps give your shower a unique curated feel. Hand-crafted tiles are a bit on the expensive side, so they are a better option for smaller showers.
Geometric Tiles
Geometric tiles are famous for the mesmerizing patterns they create. These geometric patterns can go really well with the right interior theme in your shower. The sheer number of styles, colors, and designs they come in means that you can make your shower as unique as you wish.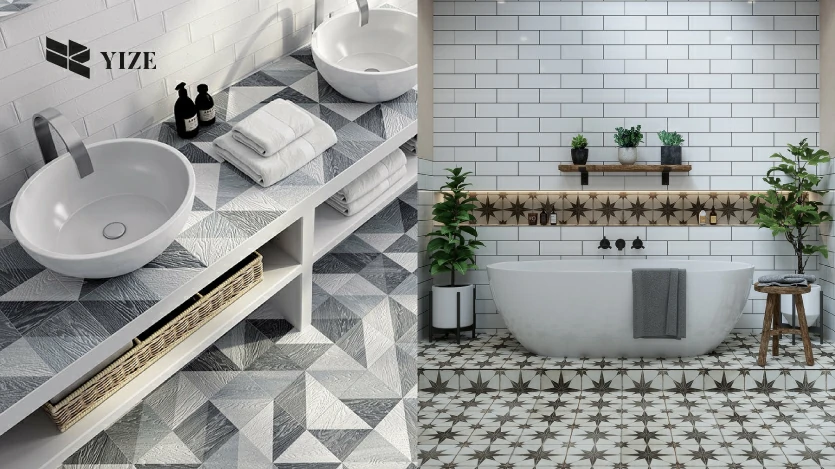 In 2023 we expect fading geometric patterns to be widely utilized. This is because fading patterns give the whole surface a more connected and flowing feel. Having the patterns fade out into a solid design gives your shower a very unique look.
Onyx Look Tiles
If you wish to go for a luminous environment in your shower, then you cannot overlook onyx tiles. Onyx tiles resemble the patterns of real onyx. They can be pink, green, or even black. The deep mesmerizing patterns help make your shower look out of this world.
Also, you get all the beautiful looks of stone slabs without requiring too much upkeep. The warm colors and cozy feel of onyx tiles will be trending for years to come.
Zellige Tiles
Zellige tiles have been the go-to classic option for shower tiles for quite a while now. They are expected to retain this popularity in the coming years. Zellige tiles are durable and affordable. But what sets them apart is their very unique texture and shine. It almost feels like they are underwater in the right lighting. They also come in many color variations. So you should have no trouble matching zellige tiles with the main color theme of the shower.
Artistic Tiles
Artistic tiles feature beautiful patterns and designs. Some also capture scenery or murals. This type of shower tile is best suited for larger showers as their design stays uninterrupted. But you can also find smaller and less complicated artistic tiles for smaller showers.
Artistic expression is a great way to make a statement. This is why we expect artistic tiles to be among the top candidates for shower tiles in 2023.
Textured Tiles
Textured tiles, as the name suggests, place the main focus on texture. They are usually made of porcelain or ceramic. The surface features rough textures, so you get a beautiful pattern of shadows and light. This is, of course, only possible with good lighting. This is in line with how home designers are leaning more toward texture than design in 2023. So it is a safe bet to go for textured tiles to decorate your shower, as this emerging trend is bound to stay in fashion for the upcoming years.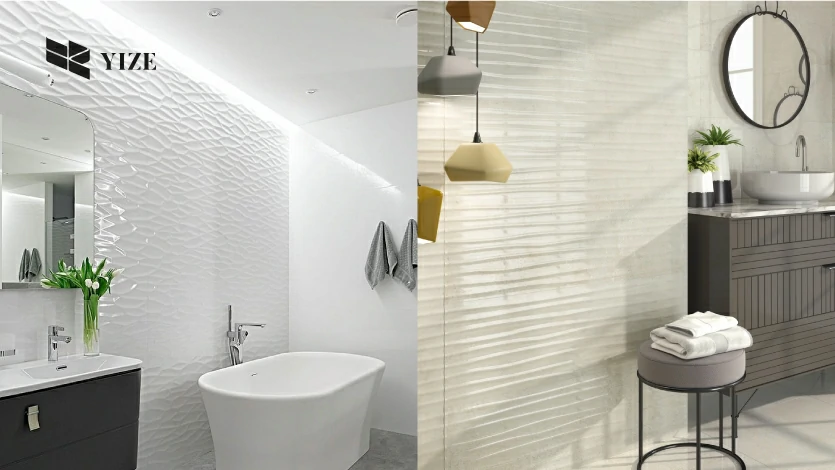 Tips for Choosing the Perfect Shower Tiles
There are a few things you need to keep in mind when picking tiles for your shower to ensure quality and a nice look for your shower:
Take Space into Account
Space matters a lot when it comes to choosing tiles for your shower. If your shower is large, you can go for bigger geometric-designed tiles. But if it is small, then smaller designs are your best bet. This is because larger tiles can feel out of place in smaller showers. Additionally, larger showers need more tiles. So there will be more expenses in materials and labor. A smaller shower, on the other hand, requires fewer expenses and labor. So if you are working on a budget, you should balance out the cost and shower size.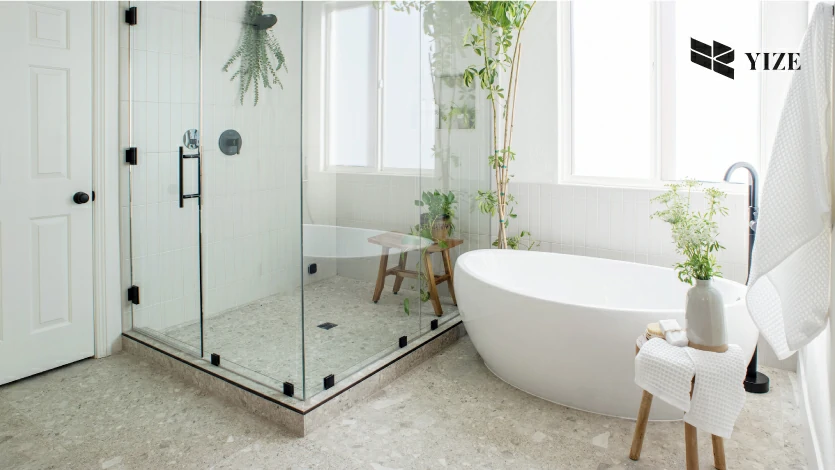 Mix and Match
When designing your shower, you are not limited to just one type of tile. Yes, uniformity and consistency are invaluable when it comes to home design. But you can also mix it up a bit and go for multiple shower tile designs. Just keep in mind that the shower tile designs you choose should complement each other. This way, you will get a much deeper and more complex overall theme. Also, you can mix up the materials you use in tiles. A marble-themed shower combined with wood design tiles will look unique and interesting.
Create a Cozy and Relaxing Environment
Choosing tiles for your shower is about self-expression. But creating a relaxing environment for yourself is also important. Nowadays, showers are the perfect retreat from the world, so you can wind down. Go for a theme, tile color, and tile design that makes you feel safe and comforted.
Ensure High Quality
Going for high-quality tiles for your shower will save you tons of headaches down the road. You should check the materials of the tiles to ensure that they can be safely installed in showers. Additionally, the tiles you pick should be waterproof. This is because shower tiles often come in contact with water even if they are not near a water source. Otherwise, they will degrade and cause further damage to the structure of your house.
Will 2023 Favor Large Tiles?
Large tiles like terrazzo tiles are going to be popular in 2023. You can also expect to see a rise in mosaic and stone slabs appearing in shower designs. But this doesn't mean that 2023 is going to be all about large tile sizes. You can expect to see tons of smaller tile options in fashion as well. This is especially the case when it comes to more intricate shower themes.
Final Thoughts
2023 is shaping up to be a very colorful year from the perspective of home design. This is reflected in the shower tile trends of 2023 as well. You can choose between tons of options, such as textured, zellige, and terracotta tiles. So you can pick the tile type that best suits your personality.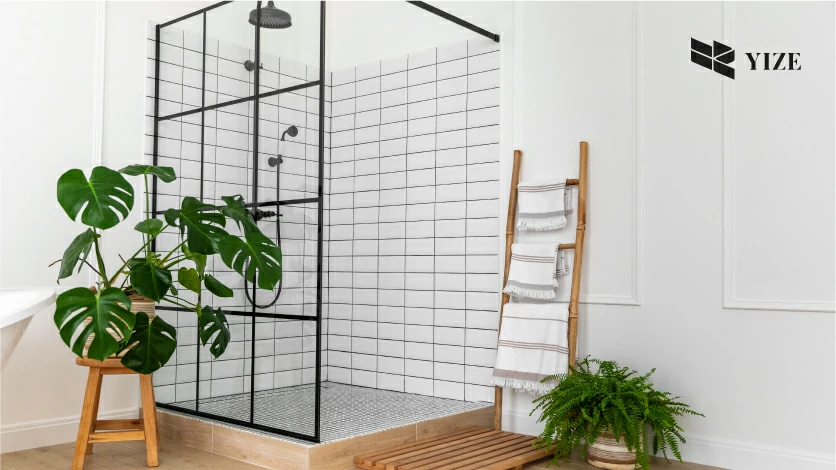 But tiles alone are not enough to make your shower look unique and impressive. Other factors, such as vanity styles and mirror placement, matter as much. Even something as small as the shower drain can be used to personalize your shower even more. Here at YIZE, we offer high-quality and beautiful-looking drains at an affordable price. You can check out our website to place an order today.