Choosing the right sink can be more complicated than you think. There may be many options for your sink installation depending on how your bathroom is already set up. Choosing the right sink for your space can enhance the value of your bathroom. The right sink can also improve both the visual beauty and functionality of your bathroom. Here is everything you need to know about Undermount and Drop-in sinks so that you can choose which style is best for you.
What is an Undermount Sink
An undermount sink is a sink that mounts to the underside of a countertop opening. An undermount sink secures to the countertop opening with epoxy, brackets, and bolts. Undermount sinks leave the cut edge of the countertop hole uncovered. There is no part of the sink visible on your countertop with an undermount sink.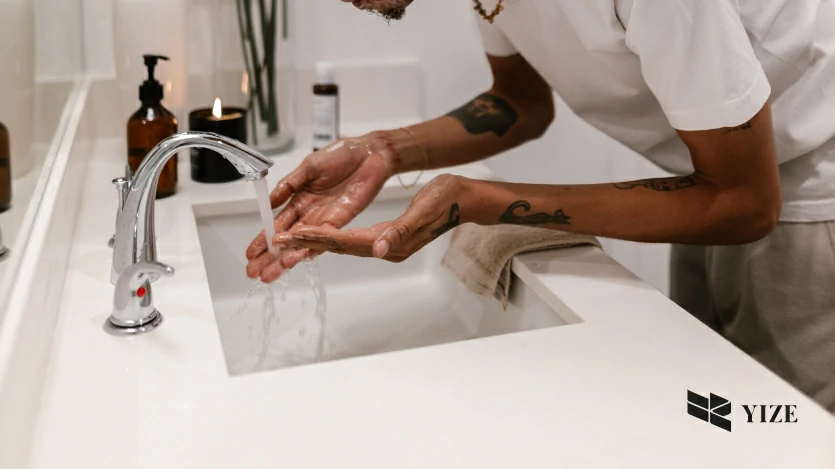 What is a Drop-In Sink?
A drop-in sink is a sink that is placed in a countertop hole from above. Drop-in sinks have a lip that hangs over the edge of the hole on top of the countertop. This lip helps secure the sink to the countertop. It also covers any edges left behind from the hole cut in your countertop. Drop-in sinks are usually secured to the countertop with epoxy under the lip and on top of the countertop.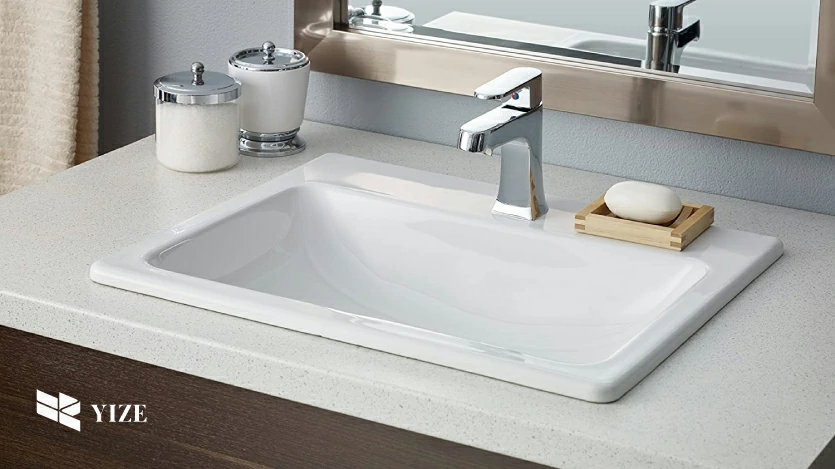 Which Sink is right for you?
You must consider many factors when deciding on which style of sink to install. Countertop material, bathroom layout, and renovation budgets are factors to think about. Here are some things to consider when choosing which sink is right for you.
Counter space
One of the main differences between these two styles is the amount of counter space covered by each sink. A drop-in sink can cover up to a few inches of counter space around the basin. An undermount sink does not cover any counter space at all.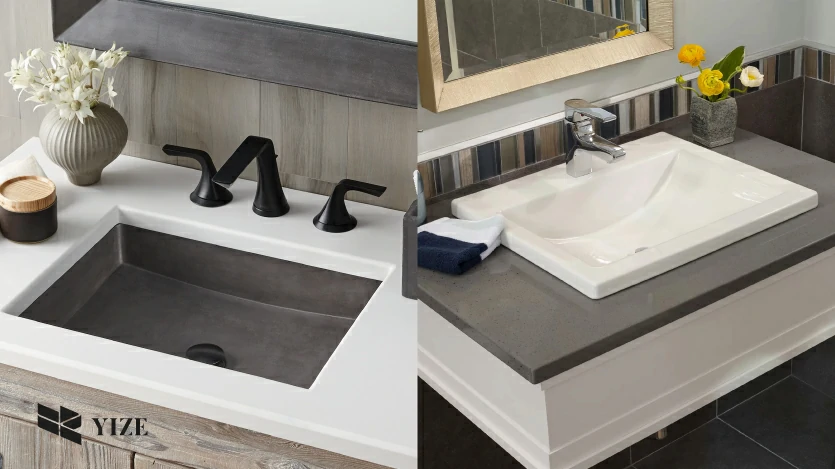 Counter space is a valuable commodity in every bathroom. If you cannot afford to lose any counter space in your bathroom, a drop-in sink may not be the right option for you. Undermount sinks can save valuable counter space in bathrooms that do not have space to spare.
Material of the Countertop
The material of your countertop can help you decide which sink is right for your bathroom. Drop-in sinks cover any exposed edges left behind from cutting a hole in your countertop. Undermount sinks leave the edge of your cut exposed. If your countertop is marble or stone, an undermount sink can be a great option for your bathroom. If your countertops are made from wood or laminate, you may want to consider a drop-in sink. A drop-in sink will keep all the water away from your exposed edge. Your choice may also come down to your personal preference on how the edge of your cut looks. If you have a rough edge on the cut in your countertop, a drop-in sink can make your bathroom look pleasing. If your cut is straight, an undermount sink will allow you to see more of your beautiful countertop.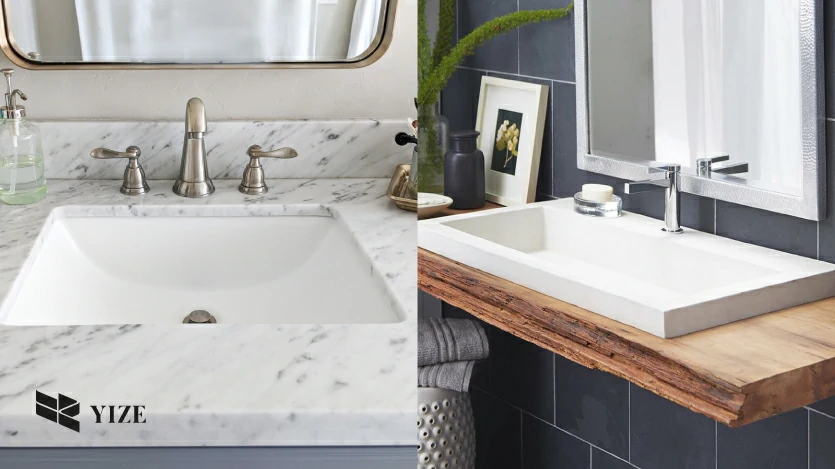 Installation
Installing a new sink can be a simple project, but each sink style is installed in a different way. Drop-in sinks are easier to install. They need less precise cuts and can install without the need for climbing under your sink. Drop-in sinks install by cutting a hole into your countertop to fit the dimensions of your sink. The sink then drops into the hole and is sealed with silicone or caulk around the edges. The lip of the drop-in sink sits on top of your countertops and secures where your sink meets the countertop. The sink is then connected to the drainage pipe and is ready to use.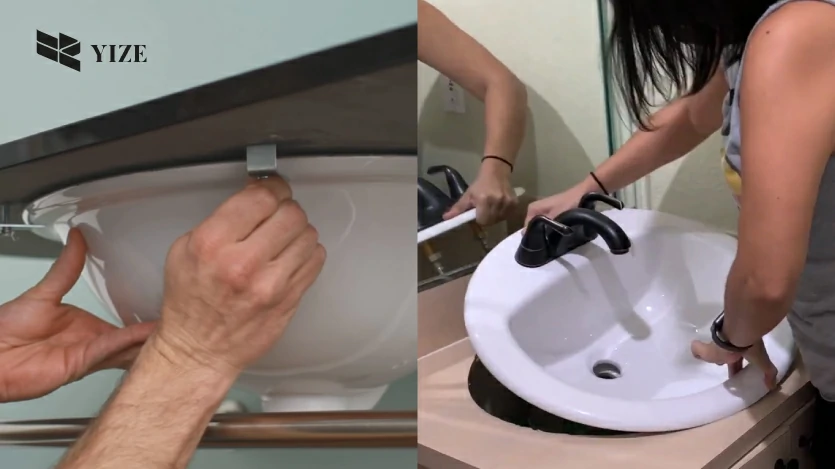 Undermount sinks need a more extensive installation. The hole that you cut into the countertop needs to be precise. All your lines and angles need to be straight and free of mistakes. You then need to seal the edge of your cut to prevent any future water damage from occurring. Once you cut your hole and prep the area, you can install the undermount sink. The sink installs by securing the basin to the underside of your countertop. You need to make sure that the edge of the basin is as flush with the opening of your hole as possible. After you attach the basin, you will need to seal the space where the basin meets the edge of your countertop. With silicone or waterproof caulk. Sealing your sink can prevent leaks and damages. If you do not have experience cutting countertop or sink installs, a drop-in may be a better choice for you. Drop-in sinks offer simple installation that is more forgiving of mistakes.
Cleaning
Keeping your bathroom clean is an absolute must, and you will want to choose a sink that makes that easier for you to do. Both sink styles have pros and cons to their
design when you consider keeping things clean. Drop-in sinks feature a raised edge from your countertop. This raised edge can be difficult to clean and may harvest dirt and grime. The raised edge of a drop-in sink can also make it more difficult to clean your countertops. There is no easy way to wipe crumbs and spills into your sink's basin.
Undermount sinks make it easy for you to clean your countertops. With no lip, you can move messes into the basin of your sink. The space between your undermount sink and your countertop can collect dirt if the seal is not good. Proper installation and sealing can help keep the area around your sink clean. It can also prevent any build-up of dirt, grime, or mold. Most sinks are easy to clean. If you clean your sink often, you will not have to worry about the built-up mess.
Aesthetics
You must consider how a sink will look when paired with the rest of your bathroom. Drop-in sinks can provide a more traditional look that adds a touch of elegance to your bathroom. Drop-in sinks cover the hole in your countertop that creates clean lines. Clean lines can make your bathroom look more professional.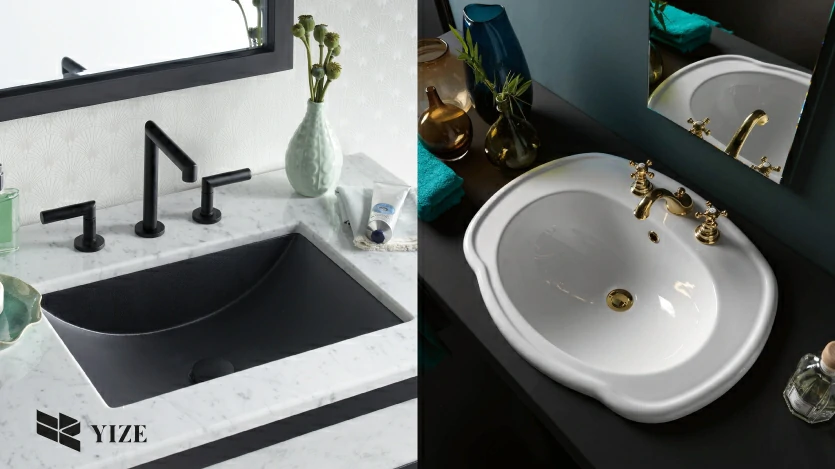 If you are going for a more modern look in your bathroom, an undermount sink may be the way to go. Undermount sinks are flush with your countertop and create a clean look. An undermount countertop makes your countertop the focal point of your bathroom. Deciding which sink looks best in your space is a personal preference. You should always choose the sink that brings your bathroom together and looks the best in your space.
Cost
Staying within your budget is an important part of any remodeling project. The cost of each sink is something you should think about when choosing a sink. Staying in your budget is an important factor in your renovation plan.
Drop-in sinks are usually less expensive and cost less to install. Drop-in sinks are more affordable because they can be installed in any bathroom. Drop-in sinks are compatible with any countertop material.
Undermount sinks are often more expensive than drop-in sinks. Undermount sinks use more expensive materials for the countertop that surrounds the basin. Renovation costs may rise if you need to install solid countertops. Labor costs may be higher for an undermount sink. This is because the installation process is a bit more intensive. The cost difference between these two sink styles may be small. But your renovation costs may rise depending on the materials in your bathroom. New countertops can be expensive, but if you want the clean and modern look of an undermounted sink, they are a necessity. Labor costs may also add up if you are having a contractor or renovation company doing the installation. If you install the sink yourself, you do not need to worry about these additional costs.
The Pros and Cons
Each sink style comes with its pros and cons. Here are the things you must consider when choosing which sink is the right fit for your bathroom renovation project.
Undermount Sink
Pros
An undermount sink makes it easier to clean your countertops into the basin.
Undermount sinks present a cleaner look if the hole is perfectly cut.
Undermount sinks can increase valuable counter space.
It is more likely to increase the resale value of the home.
Cons
Undermount sinks are usually more expensive.
The cut in your countertop needs to be perfect for your undermount sink to look great.
Undermount sinks only work if you have a solid-body countertop. Your countertop needs to have a sealed edge to prevent damage. If your countertop has an exposed edge, the undermount sink will look bad and cause leaks.
The gap between the bottom of the countertop and the edge of an undermount sink needs to have a watertight seal. You can do this with silicone or caulk to create a good seal. Without a good seal, you may experience leaks and other water damage.
Drop-In Sink
Pros
Drop-in sinks are usually more affordable.
The cut in your countertop does not need to be perfect to install a drop-in sink.
A drop-in sink is a great option for any material countertop.
Drop-in countertops give a more traditional look to your bathroom.
Drop-in sinks are easier to install.
Resealing a drop-in sink is easy. Sealing can be done with silicon or caulk if the edge causes leaks.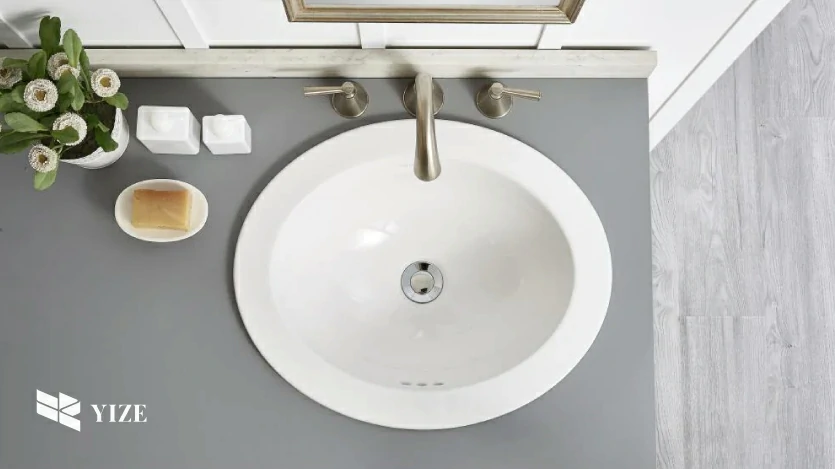 Cons
Drop-in sinks make it harder to clean your countertops.
Drop-in sinks do not provide a modern high-end look as undermount sinks do.
Drop-in sinks may reduce the resale value of your home when compared to undermount sinks.
Choosing the right sink for you
The sink style you choose to install comes down to your personal preference. The existing countertops in your bathroom may also influence your choice. Depending on your needs, either sink option can be a great addition to your bathroom. The sink is often the most used space in your bathroom. Adding a beautiful new sink can increase the value of your bathroom. Yize Drain can add elegant plumbing solutions for your next renovation job. Whether you are renovating your bathroom or kitchen, Yize Drain can provide eye-catching and efficient products that add value to the most important rooms in your home. For more information and to see all Yize Drain's products visit them online at www.yzdrain.com.