Many people like to relax after a long day at work by taking a luxurious hot shower. The problem is that most bathrooms don't have enough space for all the things you need to take into the shower with you. Having bottles of shampoo, and conditioner on the floor clutters up the bathroom. Not to mention that it isn't very nice to look at. You may be wondering whether to install a shower niche or a shelf when remodeling your bathroom. Both are great for maximizing storage space, but they differ in some important ways
What is a Shower Niche?
Shower caddies have no place in a modern bathroom. A wire basket with a shelf hanging from your shower head is not modern. Also, it isn't very attractive and can get in the way when you're trying to shower. Nowadays, shower niches are a popular choice in bathrooms.
A shower niche is a small alcove that is usually found in the side or front of the shower stall. The niche can hold a soap dish or other accessories. It's perfect for shampoo, conditioner bottles, a washcloth, a shaver, and body lotion.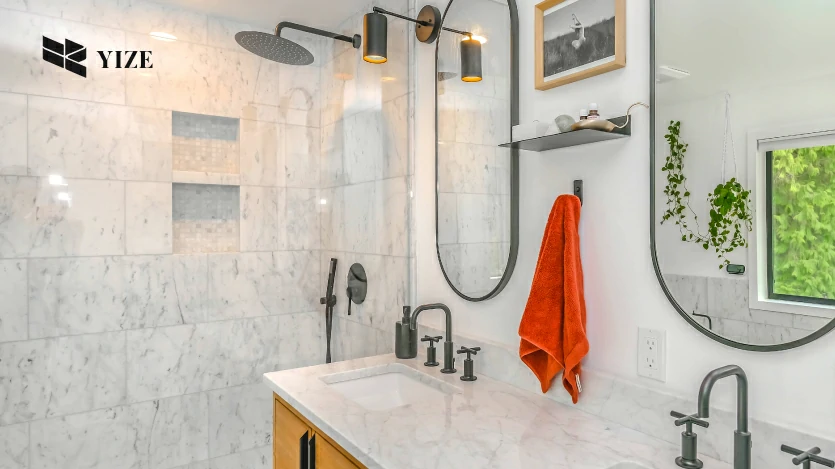 A niche is a recessed opening in a wall or built-in and can be either rectangular, square, or circular. They can be plastic, porcelain, or stainless steel. Niches are often decorated with ornamental reliefs and sometimes with tiled panels.
Benefits of Shower Niches
More storage space than a shower shelf
Can be custom-made to fit any size of shower
Doesn't take up as much room as a shelf
Looks more stylish than a shelf
What is a Shower Shelf?
Shower shelves are small shelves that you can place in your shower. Besides soap, shampoo, and conditioner, it can also hold razors, makeup, and towels. You can install these in the back corner of the shower stall to take up less space. Most models have height settings, so you can customize them to your preferences. You can also choose between single-tier or double-tier models. It depends on how much storage space you need for your bathroom items.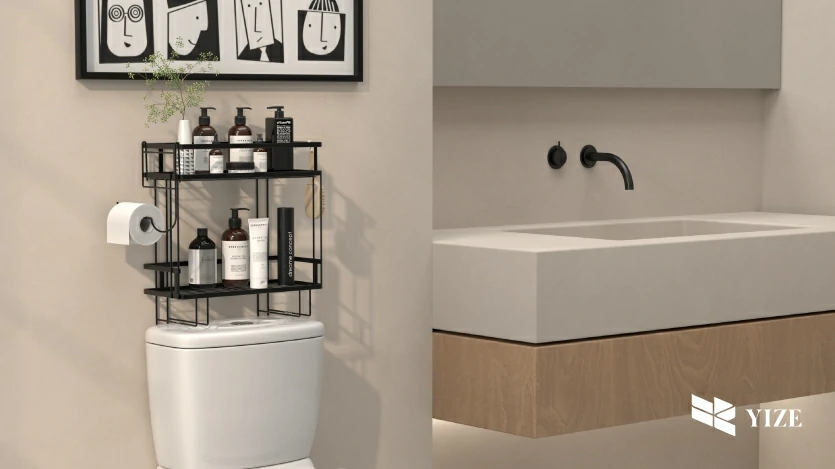 Benefits of Shower Shelves:
Shower shelves are cheap since they do not need any customization or cutting into your wall. All you need to do is buy the shelf and install it yourself! This makes them great if you don't want an expensive renovation project on your hands or if you don't have time for one either!
Comparing Different Aspects
Aesthetics
If you have a small bathroom and want to maximize the space you can use, then niches are the better option. Niches will also make your bathroom look more attractive. They are generally nicer looking than shelves.
Niches made from acrylic can fit any decor. This helps you customize your bathroom with a look that is more unique than what you would get with a shelf. You can install a niche right into the wall, and they don't take up much room. Thus, they're great if you want to keep things simple!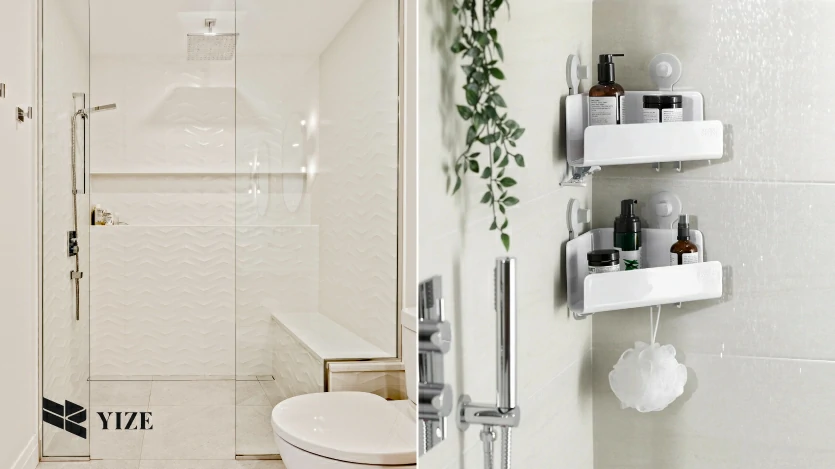 If you have a large bathroom, it might make sense to use shelves rather than niches. Shower shelves look great in any home since they offer a unique way. It is to store your bathroom essentials.
The only negative aspect about them is that they may not fit well with your design or decor. It depends on where you have them installed in your shower.
Cost
The cost of a shower niche will depend on the material used for its construction and the size of the niche itself. The price range for a small niche is $30-$60, while those with larger sizes can go up to $300. The price of a niche is also determined by the material used in its construction. Shower shelves are much less expensive than niches. The reason is that they're made with materials that are available at any home improvement store. You can find them for around $50 – $100, depending on the size and style that you choose.
Material
Shower niche
Plastic- This type of niche is usually made from ABS or PVC, which makes it affordable and easy to install. But, they can be prone to discoloration over time due to exposure to sunlight and moisture.
Acrylic- Clear acrylic that's shaped into different designs. It is such as bowls or square tubes.The downside is that they tend to break if dropped on hard surfaces.
Ceramic Tile – You can customize the tiles to look like a work of art. Install these tiles in any pattern or color scheme you like to create your own unique look.
Tempered Glass – Shower niches made of glass are another popular material. They can be any shape or size, are durable, easy to clean, and moisture-resistant. Glass also allows light into your shower niche, making it feel larger than it actually is.
Fiberglass – A lot of people prefer using fiberglass instead of wood. It is because it is easier to clean and maintain. It also comes in different colors so that you can match it with your bathroom decoration.
Stone – Stone shower niches come in a variety of shapes and sizes. You can choose a niche design for a specific purpose. Or you can choose one that complements the design of your bathroom. To maximize space, consider purchasing a large stone niche for all your essentials.
Shower shelves
Stainless Steel – Stainless steel is a popular option for shower shelves. The reason is that it's durable, easy to clean, and doesn't scratch easily. Stainless steel will not rust either – although there are some types that can corrode over time.
Functionality
The main advantage of having a niche is that it helps keep things organized in the bathroom. All your bathing supplies fit inside the niche instead of having them lying around on the countertops or shower floor.
The popularity of niches is growing. It is thanks to their many benefits: organization, ease of access, and convenience. Niches come in many different styles and materials, so there's sure to be one that will fit your needs.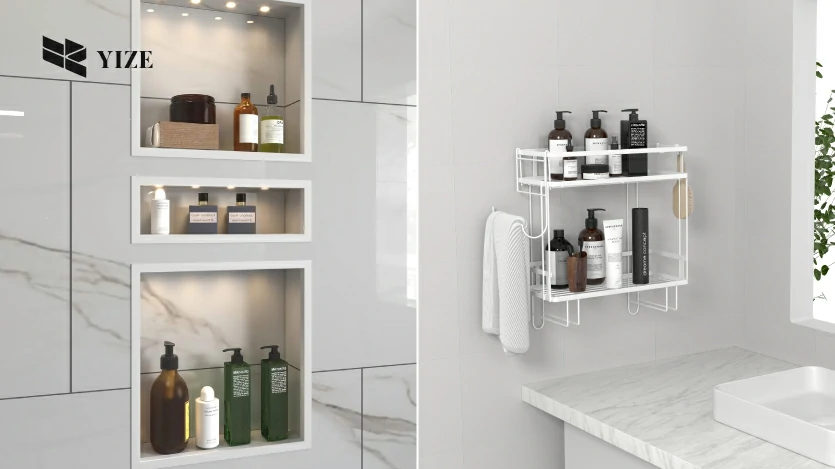 A shower shelf is an excellent way to make sure that everything you need is within reach when you're in the shower. It's also a great way to add some style to your bathroom. Also, you can add extra storage space for toiletries, towels, and other personal items. They need to be kept close at hand.
Installation
A shower niche should be professionally installed. The reason is because of the safety concerns involved with this type of project. You need to ensure that there are no water lines in the area where you want the niche installed. The niche fits into an existing
shower wall and needs to be cut to fit right. You also want to ensure that it's installed properly so that there are no leaks or other issues in the future.
Shower shelving can be installed by a professional, or it can be a DIY job. It will depend on how good you are with power tools and how easy or hard the shelving is to attach to your shower wall. A simple one or two-shelf design is easy to install yourself. Yet, a three-tiered shelf unit may be more difficult. Sometimes it is easier to have them installed to save time and make sure it is installed the right way.
Which One to Choose?
The main difference is that both provide extra storage space in your bathroom. But they differ in design and functionality. A shower niche can serve as an elegant accessory that will enhance your design scheme.
A shower shelf is usually made from durable materials like fiberglass or metal. Also, it can support heavier items without breaking. When it comes to choosing one over the other, your decision should reflect your lifestyle, cost, and so on. If you have limited space in your bathroom, then a shower niche is the way to go. It won't take up much room, so you can still enjoy the greatest comfort when taking a shower.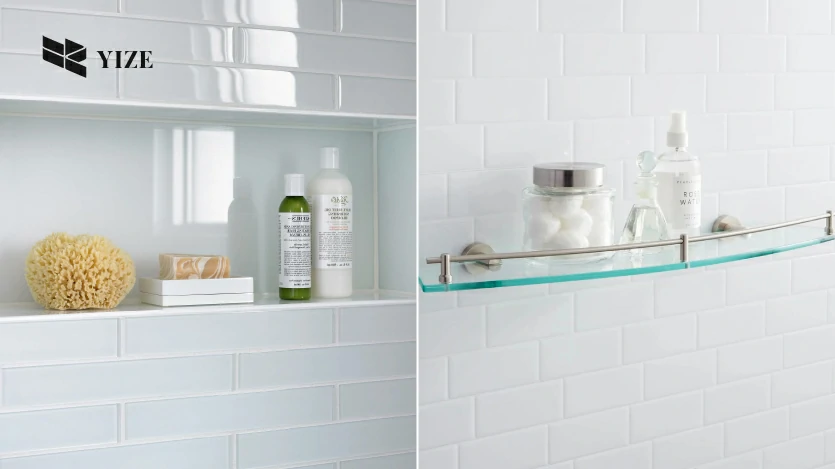 While a shower shelf might be less expensive, it may not look as nice as a shower niche in your bathroom. If you have a modern design in your bathroom with ceramic tile, it would be more pleasing to see a niche. This is also true if you have more of a minimalist design.
What is the better option? It depends on what's most important to you. The best way to maximize your storage space is with shelves. A niche is eye-catching, functional, and easy to clean.
FAQs About Shower Niches
1. Are shower niches a good idea?
With shower niches, you don't need to worry about a clunky shelf. It detracts from the look and feel of your bathroom. Shower niches provide a seamless and streamlined look to your bathroom design.
2. How big should a niche be in a shower?
The size of your niche in your shower depends on how much storage you need and how much space is available. If you have limited space, you may only be able to fit a small niche. It can hold a few bottles or containers of shampoo and body wash. If you have more room, you might be able to fit a larger niche with shelves. They hold more items, such as bars of soap, washcloths, or razors.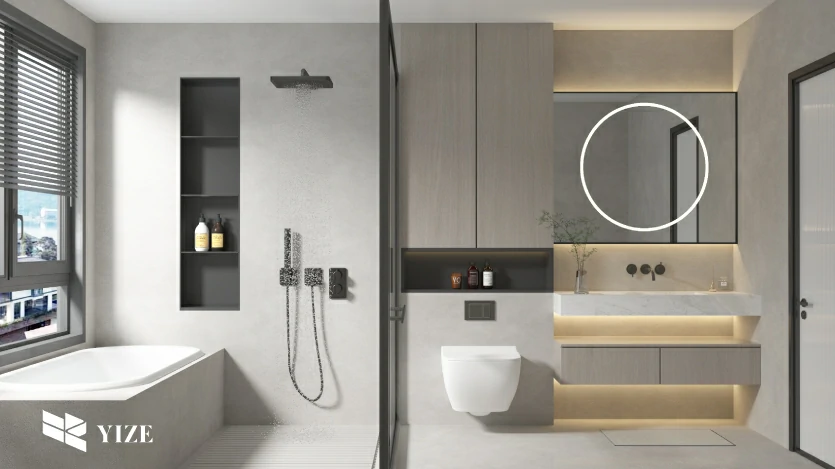 3. How many niches should a shower have?
You should have two niches. Installing two niches will help maximize space while keeping things convenient and accessible. With two niches installed side-by-side, you'll have plenty of room for all your items.
We recommend that you have two niches. Two niches in your shower let you maximize space while keeping your things convenient and accessible. If you install two niches side-by-side, you'll have plenty of storage space.
4. Are shower niches hard to keep clean?
Not at all. One of the biggest concerns people have about installing a shower niche is being able to keep it clean. These are, in fact, very easy to clean. You only need to wipe them out with a damp cloth or spray them down with the shower head between uses.
There are some distinct differences between the two options, as well as compromises. If you're looking to maximize your shower space, it may be worth considering a niche.
If you're looking for a solution that is easy to install and looks great, either system will work for you. We hope this article has helped you to make your decision.