Toilets, bathrooms, and restrooms are dangerous for people with disability. Almost all bathrooms have wet surfaces, slick floors, and limited spaces. Thus, slippery surfaces prevent people with disability from staying comfortable. The problem occurs when using a toilet or bathroom.
At the same time, older adults are more prone to fall in bathrooms. As a result, they may hit the floor and experience moderate to severe injuries. Bio Med Central highlights that 60% of older adults are prone to slips, falls, and accidents. So, this is a growing issue in the U.S. According to the Department of Aging, bathrooms are the primary areas where 80% of falls occur. Falls result in various injuries. For instance, a mild fall can cause minor scrapes and bruises. Grab bars are reliable bathroom accessories that support disabled people. But, you must follow the Americans with Disabilities Act (ADA) requirements. Today's article will discuss ADA-compliant grab bars. We will also explain their benefits and their installation requirements. Read on!
What are ADA-Compliant Grab Bars?
ADA compliance is crucial for residential and commercial property owners. Following the guidelines and standards based on the ADA ensure the safety of people. The purpose is to reduce the risk of falls and accidents. ADA-compliant grab bars are essential products. They add support in different sections of a building, Such as:
Ramps
Stairs
Curbless bathrooms
Showers
Toilets
Bathtubs
Sinks
Bathroom grab bars are available in different styles, finishes, and sizes. The most common bathroom grab bars styles are:
Wall Mounted
Wall-mounted grab bars are essential bathroom accessories. You can install these products to the wall by mounting anchors and screws. Choosing attractive wall-mounted grab bars made of durable materials. The purpose is to provide non-slip, secure gripping for disabled people.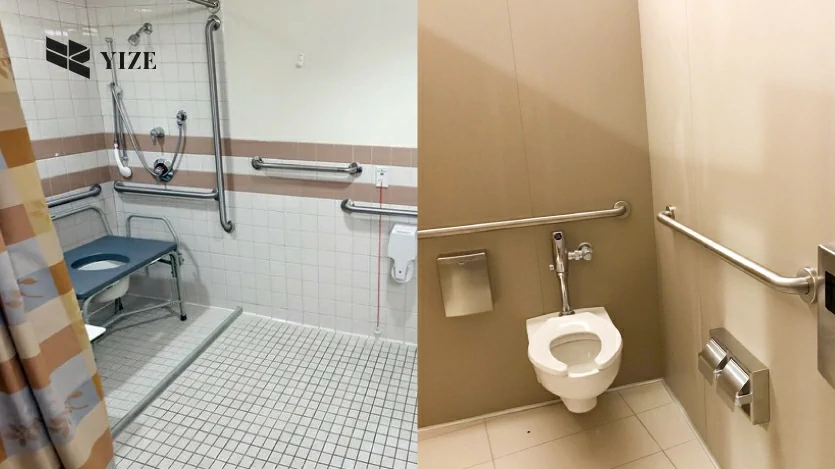 Bathtub Mounted
The bathtub-mounted grab bars are an excellent choice for people with disability. It helps them to get in and out of the tub. The installation requires adjustable clamps. For instance, you can use them to fit the grab bar base over the bathtubs' rims.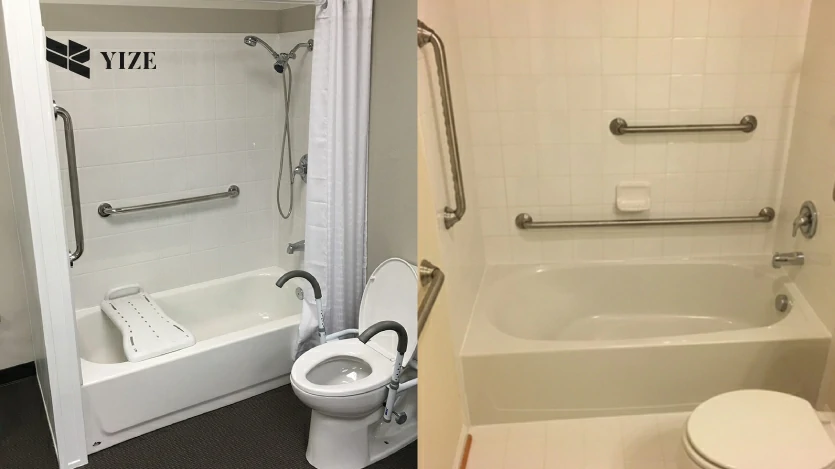 Suction Grab Bars
You can attach these grab bars to the wall using suction cups. Bear in mind that these grab bars are not suitable for home bathrooms. So, they are ideal for traveling. These grab bars are also appropriate for recovering from injuries and surgical procedures. These grab bars do not support total body weight but help balance and mobility. If you want to install these grab bars, attach them to a non-porous surface. Drywalls are incompatible with suction grab bars.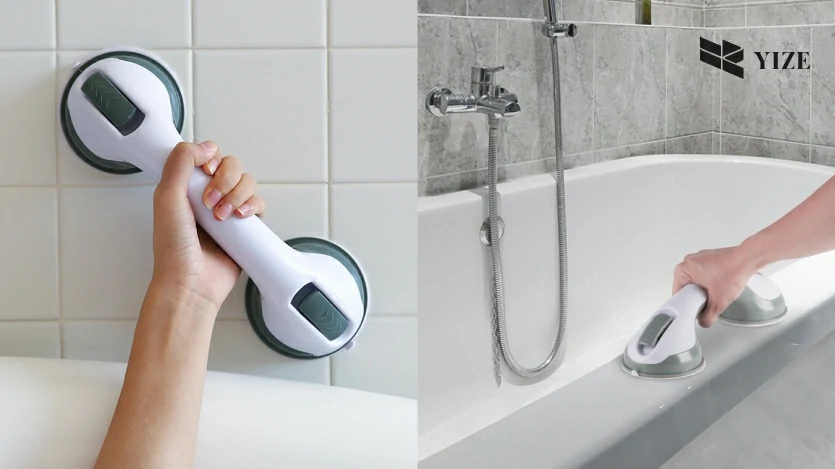 Folding Grab Bars
If you have a small bathroom, you can install folding grab bars to save space in tight areas, such as the sink or toilet. Depending on your needs, you can flip up and fold down this grab bar.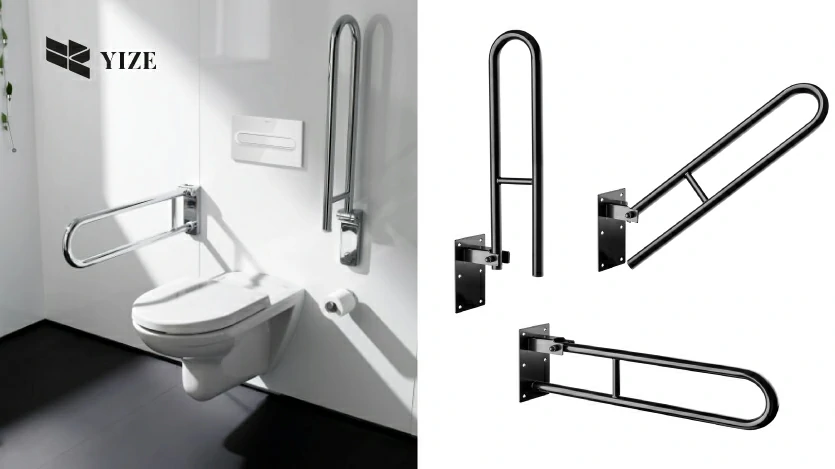 Free-Standing Grab Bars
Free-standing grab bars are unique accessories for bathrooms. These assist a disabled person in entering or exiting a bathroom. These are floor-to-ceiling bars installed beside the shower or rub.
Why Install ADA-Compliant Grab Bars?
Not installing ADA-compliant grab bars can lead to severe consequences. These can cause problems for disabled and senior citizens. We have already mentioned statistical data on disabled people. Let us discuss the reasons for installing ADA-compliant grab bars.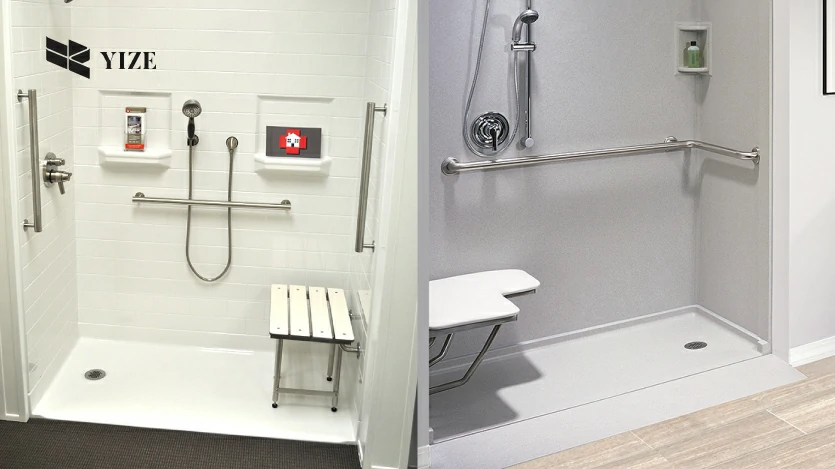 Improves Comfort
People with limited mobility, balance, and range of motion have decreased self-esteem. These individuals suffer from stress and depression. The reason is that they feel worried about slipping or falling in bathrooms/showers.
For instance, a misstep can result in a severe fall. It can break bones, and cause head and spinal injuries, etc. Bathrooms have limited space. The floors are slippery. So, these problems prevent senior citizens from using the toilet. It also prevents them from taking a shower in a curbless bathroom. Install grab bars around the room's perimeter. For instance, you can install them next to the toilet. You can install them in the shower. The purpose is to ensure stability, comfort, and reliability.
Prevents Falls
Sometimes, disabled people find it challenging to get out of the shower or bathtub. A single mistake can cause severe accidents. Old-age people with injuries take a lot of time to heal due to a weakened immune system. So, older adults need a comfortable bathroom. Grab bars can prevent falls and accidents. If you fail to follow the ADA installation requirements, you can't avoid these issues.
Ensures Autonomy
Most senior citizens and disabled people want to live in the comfort of their homes. The purpose is to provide peace of mind. Remember, going to the bathroom or toilet requires help. Thus, adding grab bars based on ADA standards can improve mobility. They can also prevent slips and falls and boost independent living. Remember, independent living enhances older adults' mental wellbeing.
General ADA Grab Bar Requirements
ADA recommends using a circular grab bar 1.5 to 2 inches in diameter. If you install non-circular grab bars, ensure they have a two-inch cross-section and a 4 to 4.8 inches radius.
Maintain a distance or space of at least 1.5 inches between the bar and the wall. The purpose is to ensure children, disabled people, and senior citizens grab onto the bar.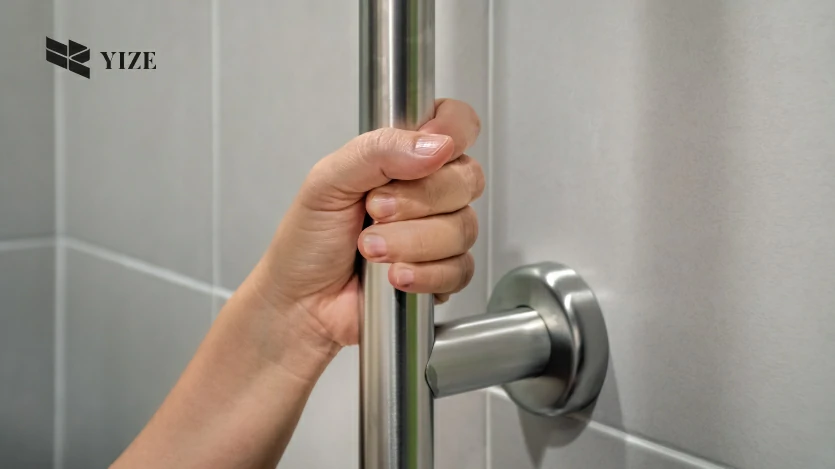 Besides, maintain 1.5 inches distance between objects at the end of the grab bar. The same is the standard for objects below the bar. In contrast, keep at least 12 inches of distance for objects above the bar.
Use premium-quality tools when installing the grab bars. The purpose is to prevent rotation in the bars' fittings. Otherwise, an older person will find it difficult to grab onto the bar. Moreover, install bars with rounded edges. Otherwise, sharp edges and abrasives can result in injuries. Add grab bars to toilets or bathrooms that support at least 250 pounds of weight. These are the general ADA guidelines/requirements for grab bars. Let us now discuss the specific standards for showers, toilets, and bathtubs.
Showers
The Americans with Disabilities Act (ADA) has approved two types of showers. The purpose is to protect the rights of disabled people. These are "transfer showers" and "roll-in showers."
The former is ideal for people who can use a shower without help. The latter is suitable for people who use a wheelchair. Some showers have a short wall with a mounted seat. It is an excellent alternative to a roll-in shower.
When installing grab bars in a "transfer shower," use a product that can hold at least 250 pounds of weight. A "transfer shower" grab bar is horizontal and 33 to 36 inches above the floor.
If you intend to install more than one grab bar, ensure they have the same height above the floor. You must install the grab bar 18 inches away from the control wall. In contrast, you will need more than one grab bar for installation in the roll-in shower. For instance, you can install one or more bars opposite the seat or above it. Install grab bars on all three bars if a shower does not have a mounted seat. In that case, you should install these bars at least six inches away from the walls.
Toilets
Placing grab bars in the right area is essential to make the most of it. ADA recommends installing a bar on the closet wall alongside the toilet. You can install a second grab bar behind the toilet.
The ideal distance between the bar and the floor is 33 to 36 inches. Besides, ADA suggests a 42-inch grab bar for the side wall. Ensure one end of the grab bar is less than 12 inches from the wall. The other end should have a distance of 54 inches from the wall behind the toilet.
ADA recommends choosing a 36-inch-long grab bar for the rear wall. Remember, this grab bar must face the other grab bar. The one end should extend at least 12 inches past the toilet's centerline. The other end should extend at least 24 inches from the centerline.
Bathtubs
ADA has varying requirements for different bathtubs. Some bathtubs for people with disability have permanent seats. Others do not have permanent seats. ADA grab bars requirements for bathtubs are like toilets. Yet, there are a few specific considerations.
For instance, you must install a grab bar on the tub's back wall for a bathtub with a permanent seat. Place/install another bar near the handles/controls on the same wall. So, you will need two grab bars for a bathtub with a permanent seat.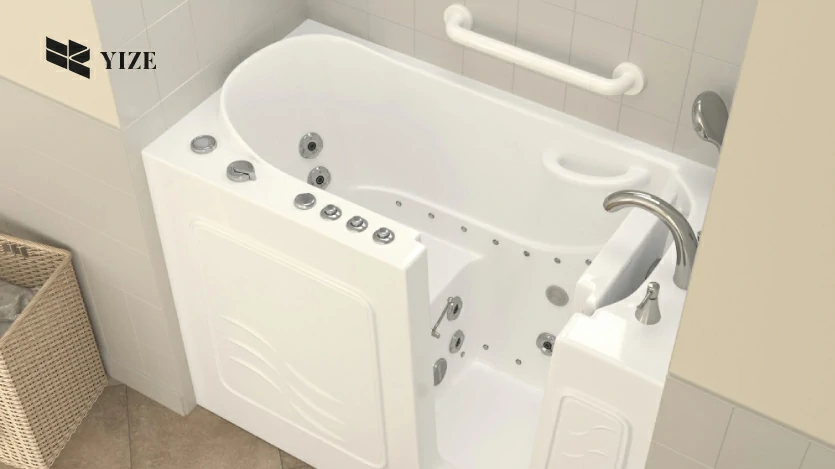 The first bar has a 10-inch distance from the rim. ADA guidelines instruct installing the second bar parallel to the bathtub's rim. The height of the bar from the floor is between 33 and 36 inches. Moreover, install both bars 15 inches away from the head end wall. Ensure both bars are less than 12 inches from the toilet wall with handles or controls.
ADA has also described specific guidelines for bathtubs without permanent seats. Again, you will need two grab bars for the back and control walls. ADA requires you to select a 24-inch-long grab bar. The height of the bar, as per ADA requirements, is 33 to 36 inches from the floor. The head end wall should have a distance of 24 inches from one end of the bar. But, the control end wall should have a space of 12 inches from the grab bar. Remember, the head and control end walls should have 24-inch or longer grab bars.
Final Words
ADA is an important law in the United States. It protects the rights of people with disabilities in all aspects of life. The law has detailed information about safety standards for a wide range of products. We have discussed grab bar requirements for bathrooms, toilets, showers, and bathtubs.
Following the ADA grab bar requirements is essential. The purpose is to protect people with disability from slips and falls in bathrooms. Grab bars ensure disabled individuals use a toilet. It also lets them take a shower without the risk of accidents. Contact us today for more information.