Are you planning to create or renovate a shower niche in your shower room this year? Great design not only makes a space more pleasant but also makes it more functional. If you have a shower caddy on the shower floor or dangling from the head as if you are still in college. It is time to upgrade your shower design with a shower niche.
Pause your bathroom renovation for a moment and learn some practical tips. Because technical concerns such as how to make shower niche waterproof and elegant are vital. Your shower niche design and architecture should also include aesthetics. After all, planning the best shower niche is an important design element in any bathroom.
What is a Shower Niche?
A shower niche is an open storage space, like a broom closet in your shower room. It is present inside the wall of the shower and otherwise tub area. People use it to store all their bathroom stuff. Niches are not only used in showers; People also install them in bathtub surrounds.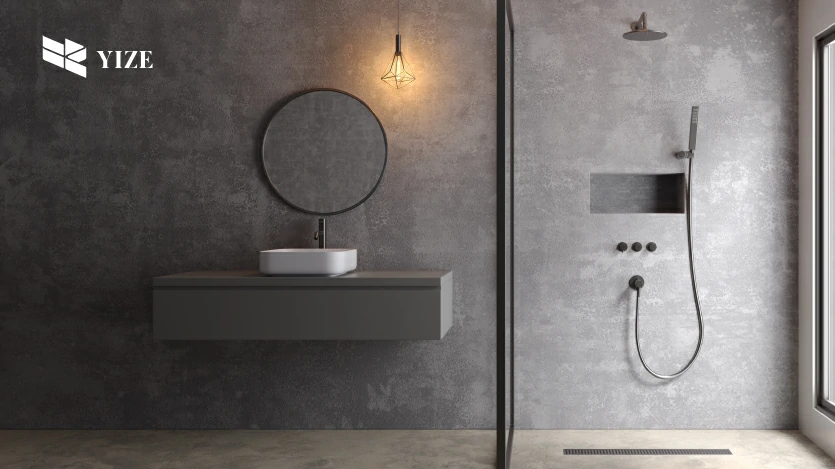 Types of Shower niches:
Let us have a look at different kinds of shower niches that you can pick from. These are some of the most common shower niches that most people install in their shower rooms.
1. Custom tiled shower niche:
A custom niche allows designers to create the ideal niche for their bath or shower. To meet the necessary dimensions, custom niches need special construction. If you are going to build a customized shower niche, you should consult with a contractor.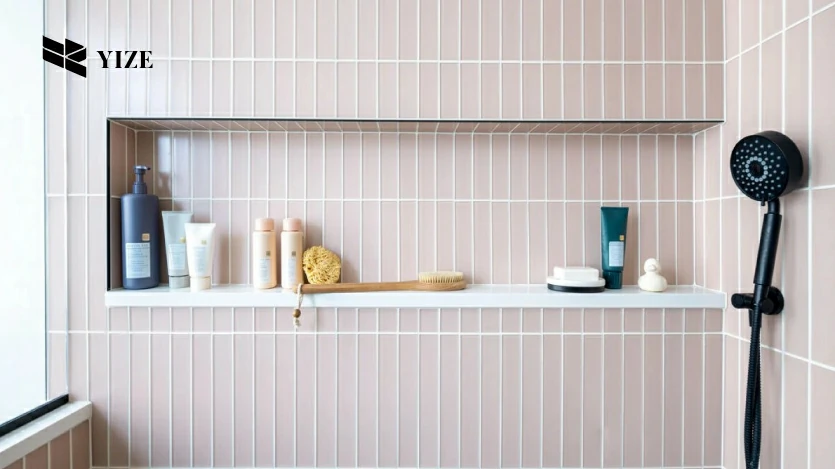 2. Prefabricated shower niche:
A prefabricated shower niche eases the construction process. Because it uses a prepared watertight mold made of foam, plastic, or stainless steel.
The contractor installs the prefabricated niche in the inner chamber of the wall or flat against the tilled shower wall. The tile is put on the watertight niche insert. Most home improvement stores sell prefabricated niches. In general, prefabricated shower niches are less expensive than custom shower niche installations.
3. Recessed shower niche:
The recessed shower niche is the one built into the shower wall. They come in square or rectangular shapes and could be of open or closed type.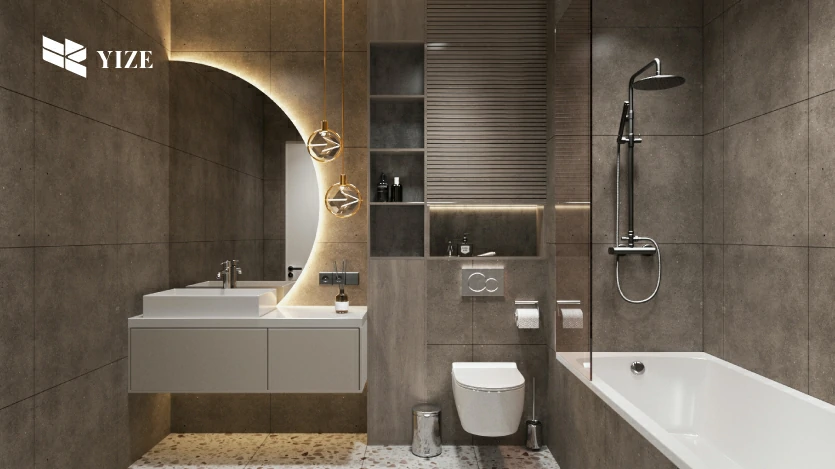 4. Corner shower niche:
The corner shower niche is an excellent option to maximize shower space. They have a triangle shape and fit in the corner of the shower room.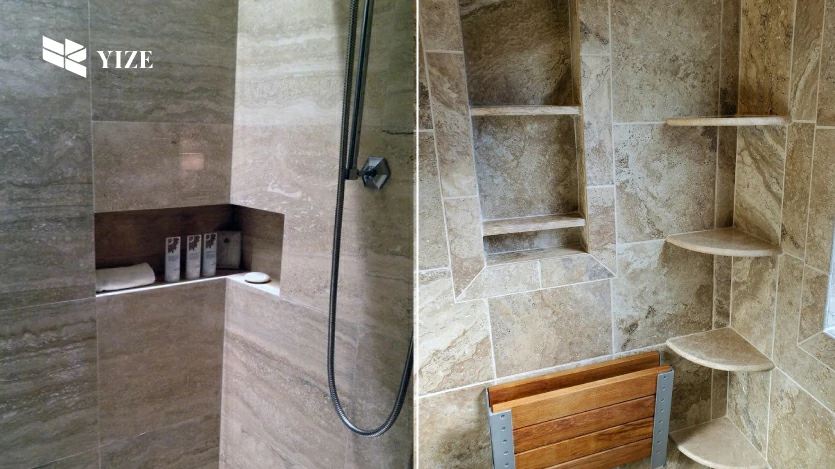 5.Shelf shower niche:
If you need to add more storage space to your shower room, a shelf-shower niche is a perfect alternative. Most of the time, they are rectangular in shape.
6.Built-in shower niche:
It is a permanent niche that fits in your shower. They are usually rectangular or square in shape, and they can be of open or closed type.
9 Tips for planning a Shower Niche:
The shower niche is quite useful for shower and bath goods. It is a necessary thing to consider if you are about to remodel a bath or shower. It performs better than a corner shelf or suction-mounted soap dish.
Let me come up with some important things to consider before installing a shower niche.
1. Best wall to mount a shower niche:
In the first step, consider where you will place your shower head. Make sure it would not shoot water into the shower niche. Nobody wants water splashing on their eyes during a shower. Placement of the shower niche in the correct wall is critical to prevent this from happening.
2. Select from horizontal or vertical type:
A horizontal niche makes a striking statement of luxury. It provides more storage space than conventional niche designs. Yet, it is the longest and most expensive of all niches. It has the possibility of structural damage during shower wall alteration.
A vertical shower niche with shelves is a perfect choice to manage space issues. It is best for separating and organizing different products.
3. Waterproof your Shower Niche:
It is one of the most necessary things to consider that you should waterproof your shower niche.
Make sure you have a waterproofing plan for it because a small amount of water leaking may cause significant damage over time. You can use a RedGuard waterproofing or a waterproofing membrane. Moreover, to assure no leaks, laticrete it with fiberglass tape.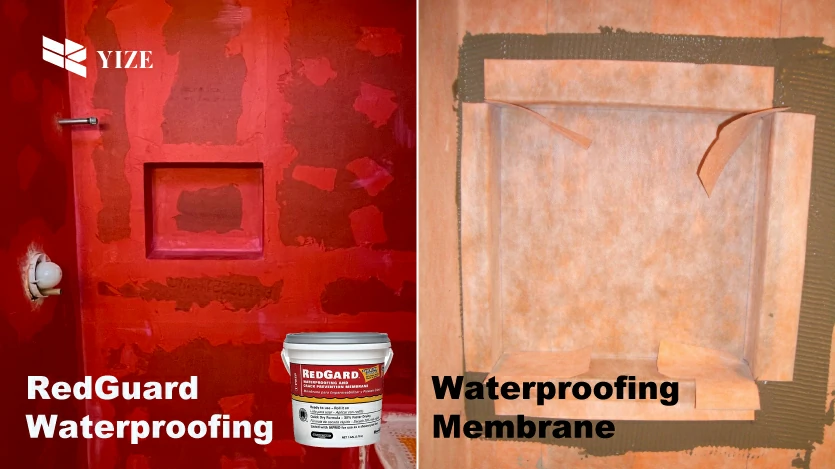 4. Shower niche shape and size and is the key:
Shower niches are available in a variety of forms and sizes. Furthermore, Shower niches come in a variety of styles. Keep in mind that the size of your niche should be proportional to the size of your shower. You should pick one that will work well with your shower space.
For this purpose, you should think about how big it needs to be. What sort of niche do you desire? Do you want a larger niche only for bottle storage?
Is a rack for bar soap and razors required? In contrast, you may like 2 small niches. It will boost storage while also adding flair and harmony to your bathroom design. This selection will incorporate both practical storage issues and aesthetic factors.
You can create customized shelves featuring purposes and characteristics by combining different shapes.
5. Placement of Shower niche:
When planning your bathroom makeover, shower niche placement is critical. When looking for the ideal location for your niche, consider how the area will be used. A decent starting point is to position your niche between your chest and your eyes. This relates to a height range between 48 to 60 inches.
For an ideal height, you will want to place your niche between the studs, which are 16 inches apart. Yet, many installers can assist you in arranging the room for a more customized aesthetic.
The placement of the niche is of four types; Centered, off-center, corner, or edge. The location of your shower niche on the wall has a significant impact on its appearance. Studs, pipes, and other hardware might influence where you place your niche.
6. Make it a little bit sloped:
When creating a shower niche, it is important to make sure that the bottom is a little bit sloped. So that water can drain out. But, do not make the slope too steep that nothing will be able to remain on the shelf. As a general rule, the least slope should be 1/4 inch per foot. When in doubt, err on the side of caution and slope the bottom of the niche at 1/8 inch.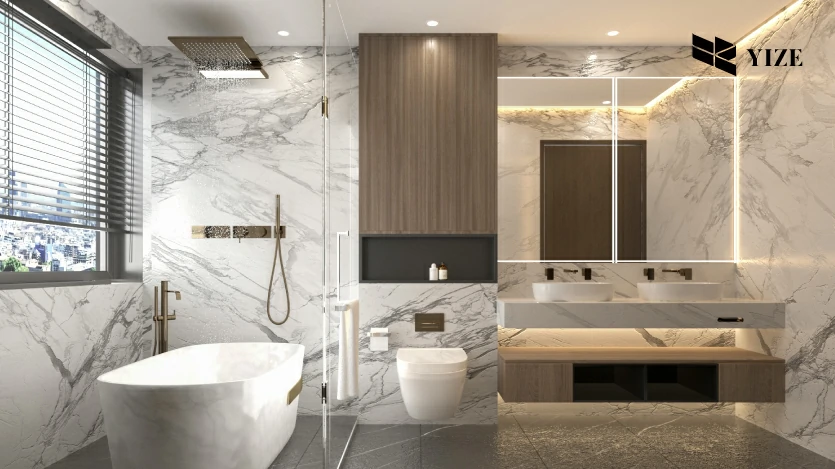 7. Height and depth of shower niche:
The optimal height for installing a shower niche is 120cm from the floor. This will place your shampoo, soap, and shower at the perfect height for easy access and use. In case of a niche built over a bathtub, place the shower niche lower so you can access it from inside the bath.
In the case of the depth of the niche, the normal depth is 3.5 inches. It will accommodate even the largest shampoo bottles. Ensure that niche is near enough to take all your shower necessities with ease.
8. Material for shower niche:
Niches are available and made up of various materials. They are such as stone, tile, porcelain, stainless steel, and plastic. Niches made up of stainless steel or porcelain are less difficult to install than that of a tiled niches. Find out which material is most suitable for you.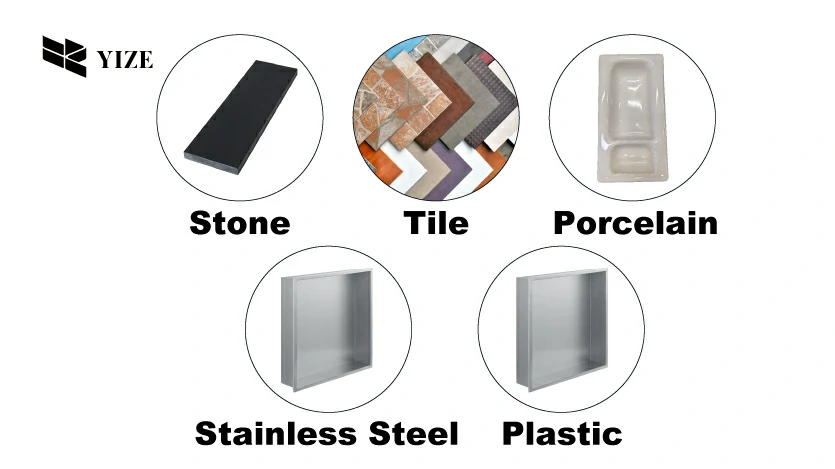 9. Style your shower niche to make it aesthetic:
Shower niches may be an option if you are looking for a stylish method to add more space to your shower. The finishing touch of the shower niche complements the look of your bathroom.
The good finishing touch of your shower niche will add aesthetics to your shower room. In this regard, you can add lighting, an ethnic vase, or an artificial plant to make it more attractive. These choices entail both practical and artistic considerations.
The symmetry and polish are more noteworthy when building a spectacular niche. Yet, a pragmatic perspective will drive you to arrange a shower niche. It has more utility as it is more important to make it functional rather than to focus on aesthetic issues.
How to clean and maintain a shower niche?
You need a few tips to keep in mind when you need to clean and maintain a shower niche.
In the first step, clean away any soapy residue or grime that has accumulated on the floor of the shower niche. You can perform this by utilizing a gentle soap and a delicate cloth. The next step is to disinfect the shower niche. You can do this by combining bleach and water to clean the area afterward.
Finally, it is vital to seal the niche in a proper way. This will aid in keeping mold and mildew at bay in the area. You can use a silicone-based sealant to close the niche.
FAQs:
Is shower niche a good idea?
A shower niche is a great solution for people who want to save space and money. It's a small feature that allows you to store your shower accessories without taking up too much room.
How far the shower niche should be from the shower floor?
When planning where to place a shower niche, most people prefer it at a specific height. It is better to install it at a height where it is comfortable for them. It is to reach without having to bend down or stretch up. This generally means placing the niche between 38 and 60 inches from the floor.
Should I caulk or grout my shower niche?
When it comes to filling the joints between tiles, grout is usually the best option. But, where two-tiled walls of the shower meet, waterproofing with silicone caulk is best.
How much does a shower niche cost?
Prices of shower niche range from $75 to $300 and above. This also includes labor for professional installation and waterproofing. A niche can be a potential add-on element for a new shower installation if it fits your budget.
Conclusion:
Niches are useful and offer a terrific visual focus point in any shower or bathroom. When planned, I will sum things up by saying. When it comes to creating a shower niche, there are no hard and fast rules. Mixing and matching materials, patterns, and colors are acceptable.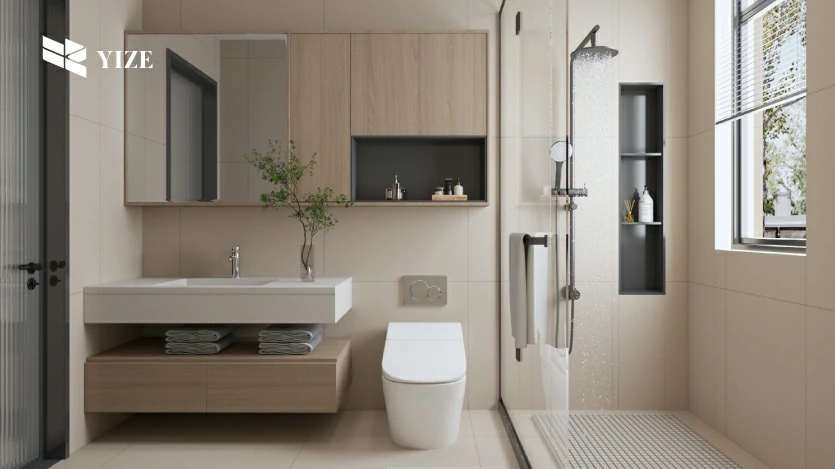 It is more important to perform things with care and skills. I would also rank usability high in the list of successful niche design criteria. Because, after all, functionality is the ultimate goal, right?