Squeegees protect your bathroom from mildew-growing moisture and round out your shower cleaning kit. The best shower squeegee for your bathroom should be durable, versatile, comfortable to use, has a robust mount, and wipes water off well. Take a closer look at five of the top bathroom squeegees in the market and what to consider when choosing one.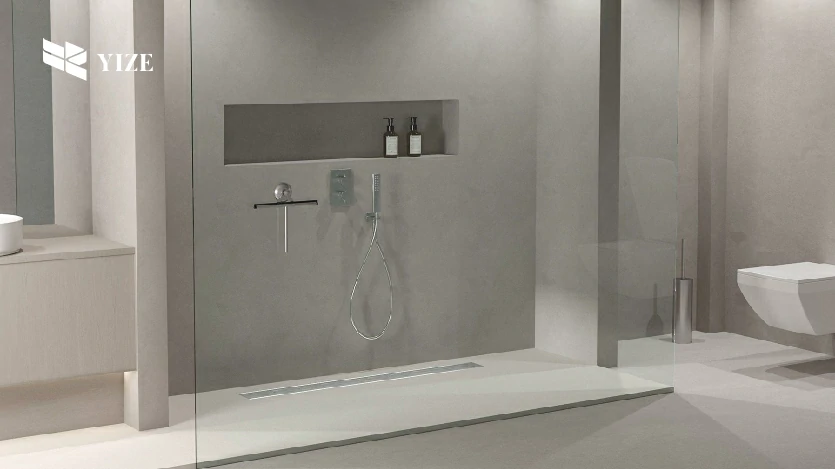 Here are our picks for the best shower squeegees for various bathroom types.
Did You Know? Shower squeegees reduce moisture in your bathroom. In turn, they protect you from molds, mildew, and other biofilms. Similarly, installing a shower drain that works help this purpose. Check out some of the most elegant and functional shower drains you can choose from.
Desired Tools' multipurpose bath squeegee offers versatility, affordability, ergonomic design, and easy usage. Use it to remove water, stain, and soap scum from all flat surfaces – glass, and tiles, to name a few. Its soft silicone blade, measuring 7.7 inches, makes it flexible and scratch-free. Plus, the non-slip handle allows for streamlined function and a comfortable grip. Storage is also simple since it comes with waterproof adhesive suction hooks.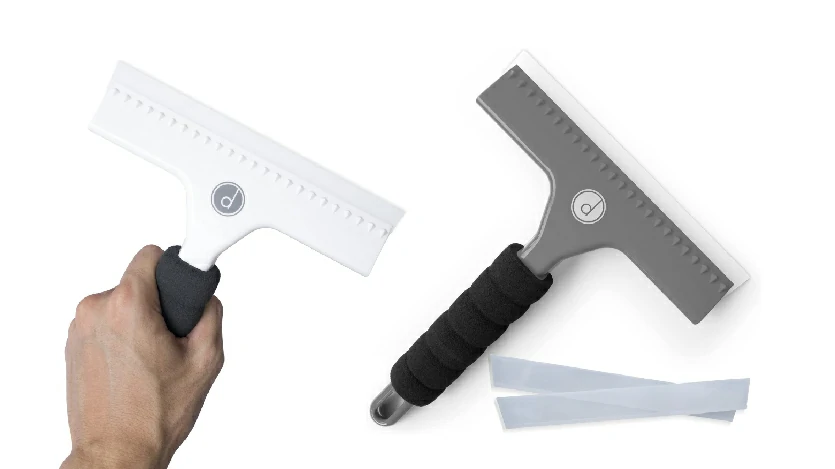 Specification
Dimensions: 11.3 X 7.6 X1.18 inches
Weight: 3.84 ounces
Materials: silicone blade, plastic with foam cover for the non-slip handle
Why You Should Get It
The Desired Tools squeegee features two silicone blades. It's ideal for cleaning glass shower doors, windows, car windshields, and contoured surfaces. Due to its soft and lightweight handle, it is also a great choice for those who need a non-slip grip.
When To Find an Alternative
Desired Tools' shower squeegee tops our list of best shower squeegees because of its versatility, sleek design, and convenient cleaning ability. But you may go for another product if you prefer a metal-based squeegee. Or if you want added features like foldability and a robust handle. In that case, consider the Simplehuman Foldaway squeegee.
Clerét iDo offers effortless cleaning and absorbency. Thanks to its dual wiping edges, this US-made bath squeegee scrapes off the water on smooth and contoured surfaces without leaving streaks. Additionally, it contains no metal parts, so you won't have to worry about rusting.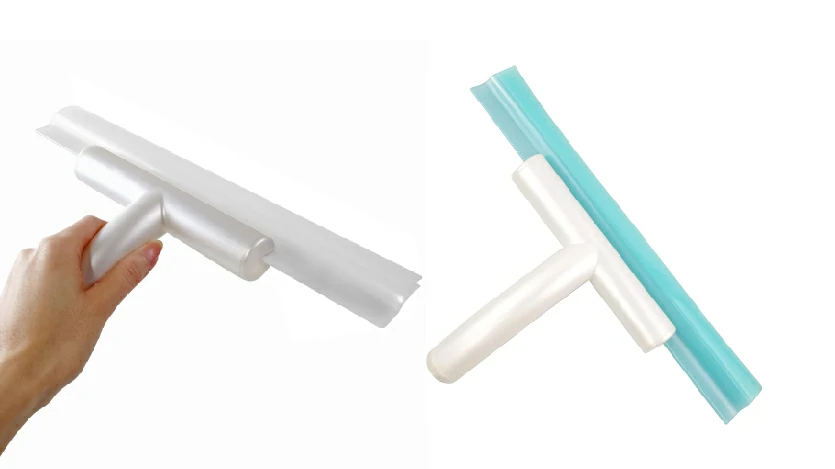 Specifications
Dimensions: 12 X 7 X 2 inches
Weight: 3.9 ounces
Materials: BPA-free plastic (blade and handle)
Why You Should Get It
Clerét squeegee should make your list of choices if you want a squeegee with high functionality. It has gained positive reviews for its excellent features and streamlining shower glass cleaning. Users also appreciate that you don't need frequent cleaning when using this squeegee.
When To Find an Alternative
If you want an alternative with a sleek design and a solid mount, you might consider another product on our list. Some users note that Clerét squeegee's bathroom wall hanger is flimsy and falls off fast. That said, try the Desired Tools shower squeegee.
For a shower squeegee that combines function and modern design, go for the GÜTEWERK squeegee. This non-slip wiper has a handle with stainless steel core and damping silicone. As a result, it doesn't break when it falls.
The GÜTEWERK shower squeegee also has a silicone blade that measures nine inches. It is soft and flexible, making it suitable for cleaning all types of surfaces, including glass. On top of that, it is comfortable to hold and needs less grip pressure. Plus, the general aesthetic allows it to double as a pseudo-ornament in your bathroom.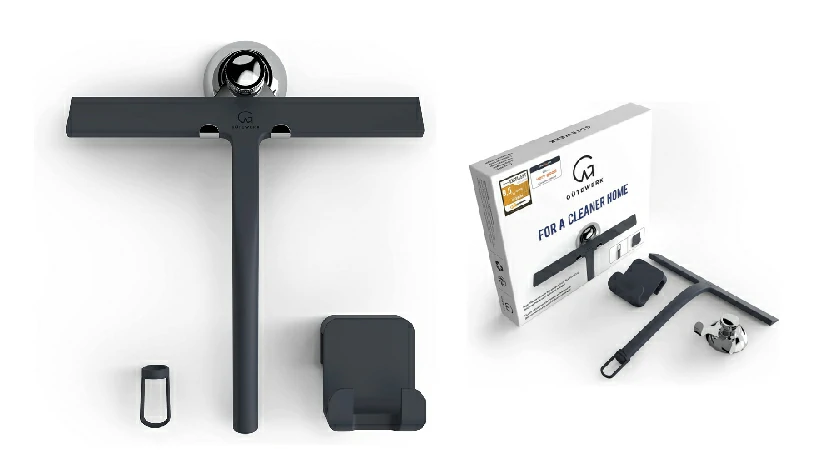 Specifications
Dimensions: 11.65 X 9.25 X 1.89 inches
Weight: 14.9 ounces
Materials: stainless steel and silicone damp (handle and core), silicone blade
Why You Should Get It
GÜTEWERK shower squeegees are ergonomic, stylish, and functional. It fits bathrooms at all scales. With its long, slim, and strong handle, you can expect durability and versatility.
When To Find an Alternative
You may want other options if you're looking for a more affordable squeegee with a replaceable blade. Choose Clerét iDO squeegee or Desired Tools shower squeegee, as they both have substitutive features and extra blades.
Foldaway squeegees from Simplehuman make storage a breeze. Its blade has a foldable zinc handle and a powerful suction cup for hanging that needs little to no water. It's also stainless steel, making it corrosion-resistant. The squeegee is also lightweight and angled for a more precise glide. This makes it a great mirror and shower glass door squeegee.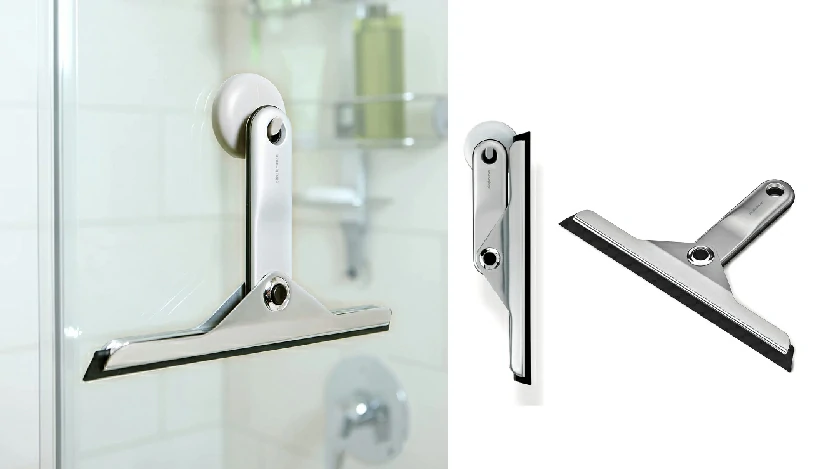 Specifications
Dimensions: 6.4 X 10.3 X 1 inch
Weight: 7 ounces
Materials: stainless steel (blade), anionized aluminum with die-cast zinc (handle)
Why You Should Get It
The Simplehuman squeegee is best for people who lack storage for bathroom accessories. It's also a good option for those who prefer metal squeegees over plastic ones for durability.
When To Find an Alternative
Simplyehuman's foldaway squeegee costs around $30. It's steep as you'll be paying extra for its foldable feature and the high-quality materials it's made of. For more affordable choices, check out the OXO all-purpose bathroom squeegee.
OXO's Good Grips all-purpose squeegee is an affordable and handy bathroom accessory. Its rigid blade makes it an excellent shower wiper for glass shower screens. It also has a non-slip handle and lightweight materials, mostly plastic and some metal.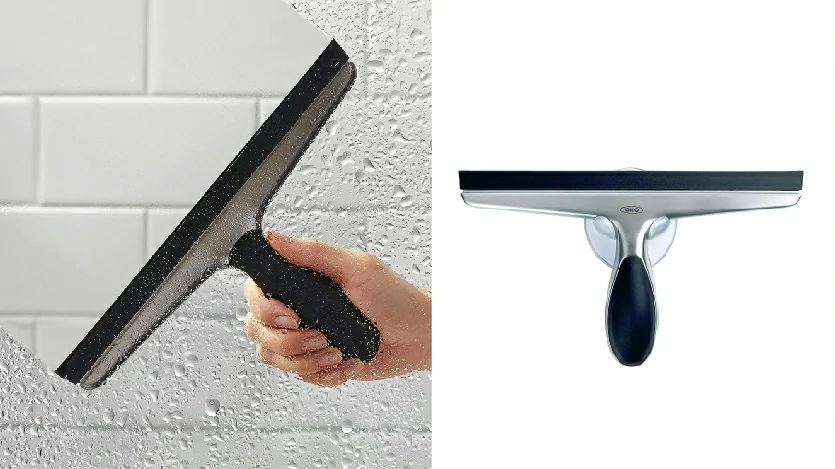 Specifications
Dimensions: 10 X 1.5 X 6 inches
Weight: 4 ounces
Materials: flexible thermoplastic firm rubber blade, coated stainless steel with nonslip cover for the handle
Why You Should Get It
The OXO shower squeegee might be the right choice if you are looking for a non-expensive shower wiper. It has a short handle, a robust blade, and a fair price. Plus, its minimalist design suits any bathroom type. You can also use it for cleaning other items like windows and car windshields.
When To Find an Alternative
Many users find the OXO shower squeegee suitable for bathroom use. But others complain that the suction cup does not stick to materials other than glass panels. Also, it might not be the best option if you want a squeegee for deep cleaning that includes the floor and high walls. That said, go for a relatively long-handled squeegee for shower like the GÜTEWERK shower squeegee.
How To Choose a Squeegee
To come up with our list of best shower glass squeegees, we looked at how each product holds up based on key criteria. All the products on our list meet these criteria, but some score higher than others. Your choice is ultimately based on what you place at the top of your priority list.
Ease of Use
Squeegees should remove moisture, soap scum, stains, and limescale without repeating the process. When looking at shower wipers, check the blade and consider the type of surface texture you have.
For example, go for a shower squeegee with a smooth and softer blade if you use it for rough tiles. For a larger bathroom needing quick cleaning, bi-blade squeegees are the best option. This will allow you to double your cleaning efficiency without taking too much time.
Also, consider the handle grip of the squeegee. Textured handles may inflict too much pressure. But, those with a lightweight handle can be more comfortable to hold, no matter how you hold them.
Versatility
Bathroom squeegees clean shower doors, uneven surfaces, fogged mirrors, ceramic tiles, and more. But you can also use them to remove water on high shower walls, windows, and floors. In doing so, you may need a long-handled squeegee. If you want to use an all-purpose squeegee on various surfaces, go for blades that are not too stiff.
Storage
Stashing your squeegee away can be as easy as placing it in a mount or keeping it in the cabinet under your sink. Most people keep their squeegee within reach since they use it after showering. Hence, placing it in a mount is a good choice. That said, go for squeegees with matching mounts.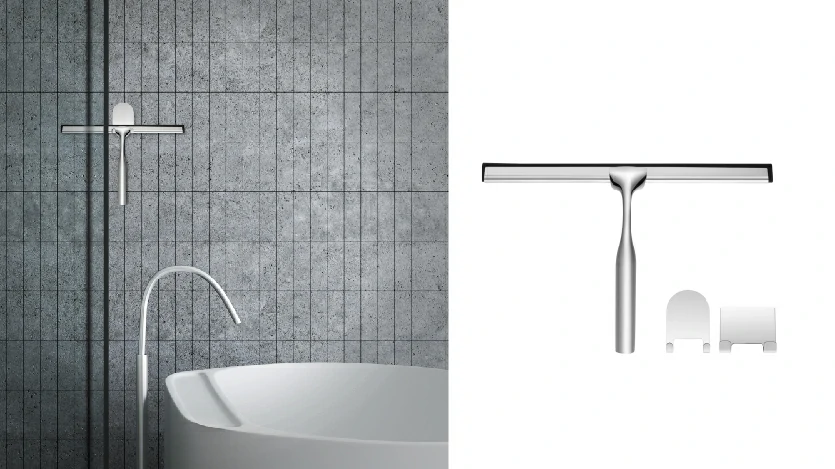 Overall Design
Gone are the days when bathroom tools like the squeegees are an eyesore. Nowadays, you can display your squeegee as part of your bathroom aesthetic. Hence, if this is part of your consideration, go for squeegees with a sleek and minimalist design. It's subtle and blends in with various bathroom themes.
Quality of Materials
Metal, plastic, and silicone are all materials used to make shower squeegees. With a metal squeegee, ensure it's rust-proof because it's often exposed to water. They are great if you're after durability and if it matches your aesthetic.
You should opt for shower wipers made of silicone or plastic if you want to avoid corrosion. But, keep in mind that while these materials don't rust, they are prone to microbial growth. As a result, you have to clean and maintain them dry often. Plus, they can also crack or break over a specific period.
Frequently Asked Questions
Is a shower squeegee worth it?
Shower squeegees keep your bathroom clean and well-protected from mildew and microbial growth. These microbes flourish in moist environments. So, if you don't use this cleaning tool, you might get sick. Plus, cleaning can be a nightmare. But using a squeegee to remove water drops from your shower glass door will save you time.
Which is the best squeegee?
The shower squeegee from Desired Tool is our top choice. But the best shower squeegee depends on your priority criterion. You will also need to consider your preference for style, size, material, and other factors.
For example, if you focus more on the convenient cleaning ability, you may want the Clerét iDO squeegee. For elegant design, the GÜTEWERK squeegee is a fine choice. And for an affordable alternative, go for OXO's Good Grips all-purpose squeegee.
How often should you use the squeegee in the shower?
Make it a habit to use a squeegee to remove water and moisture buildup after showering or bathing. Use a clean towel to completely dry your mirror, door, walls, and floor. Ding so will lessen your risk of having mildew and bacteria spreading in your bathroom.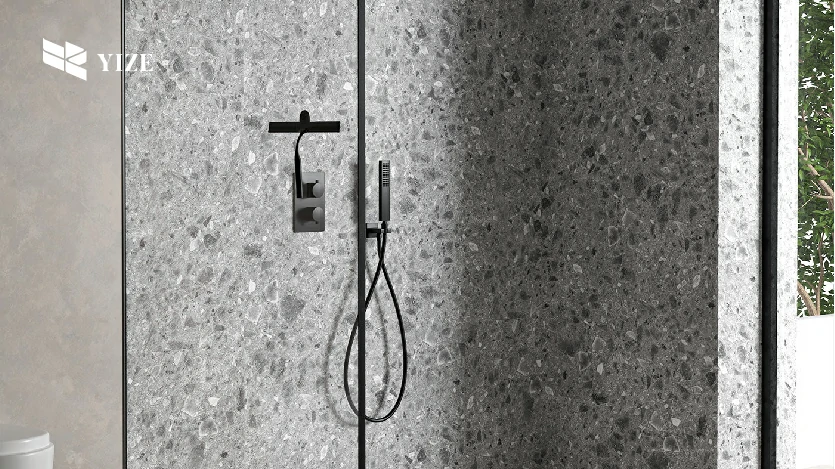 The Bottom Line
Interested in an easy-to-use, versatile, cost-effective, and handy bathroom wiper? Consider the Desired Tools shower squeegee. It's not as expensive as sophisticated squeegees and has done the job well for a long time. But if you're looking for anything specific, check out other products on our list.
Related Articles: