After a long and tiring day, having a relaxing bath is a great way to unwind and get pampered. Fizzy bath bombs, scented candles, and water infused with essential oils can melt all your stress away. You can also grab a decent book and play instrumental music while enjoying your bath. Feels like your own version of your favorite spa, doesn't it?
Yet, when homeowners strive to enhance and maximize their living spaces, bathroom design is often overlooked. This leads to design mistakes that ruin your bathroom's aesthetics and functionality.
Having knowledge about the most common bathroom design mistakes can help you. Read through this article to learn more.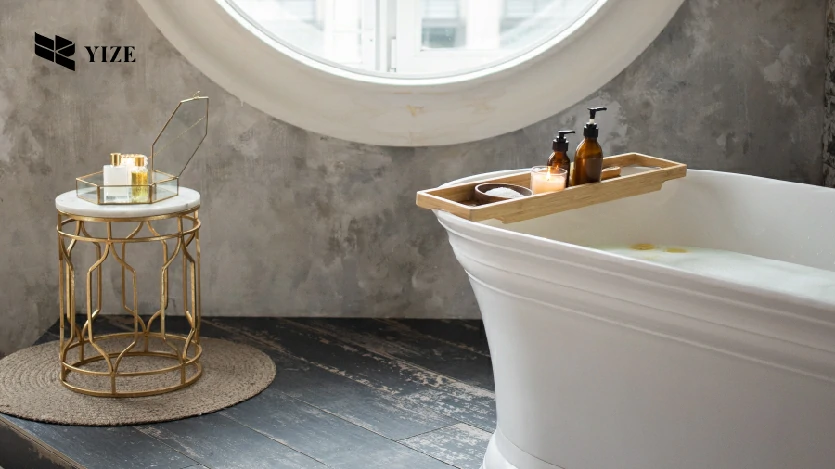 What are the Common Bathroom Design Mistakes to Avoid?
To help you learn how to design your bathroom like a pro, we have crafted this list of the most common bathroom design mistakes to avoid.
Mistake 1. Making your layout hard to navigate
Determining the bathroom plan is the most crucial aspect of bathroom design. This is regardless of the size of the bathroom. The arrangement of the basin and shower is one of the common design mistakes. This makes it difficult to enter the bathroom.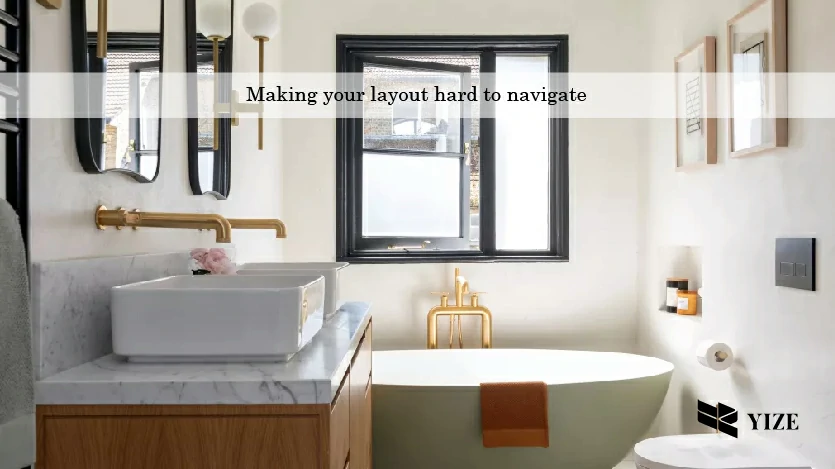 A well-designed bathroom ensures that there is enough floor space. Also, it ensures that everything is accessible.
Mistake 2. Inadequate length of shower drain
Your bathroom's shower drain connects to the sewer. So, it ensures that water can flow through the drain outside. Additionally, it stops sewage water or gas from backing up into your bathroom.
You cannot patch a cheap, substandard shower drain on your bathroom surface. This is because the shower drain is a component that plays such a significant function.
Keep in mind that there are many sizes of shower drains accessible. As a result, you need to measure your bathroom's size and roughly estimate how much water you use daily.
Choosing a model with the right length is necessary. This is to ensure its effective performance and minimal installation issues.
At YZDRAIN, we have crafted a variety of shower drains that perfectly fit every type of bath space. All our products provide both aesthetics and functionality, adhering to our customer-first concept.
Mistake 3. Insufficient ventilation
You should consider placing the bathroom next to an exterior wall. As a result, you may add a window for natural ventilation easier. If that is not workable, you may invest in a ventilation fan with premium quality.
Regular activities within the bathroom can lead to a significant increase in humidity. These may include flushing the toilet, using faucets, and taking showers.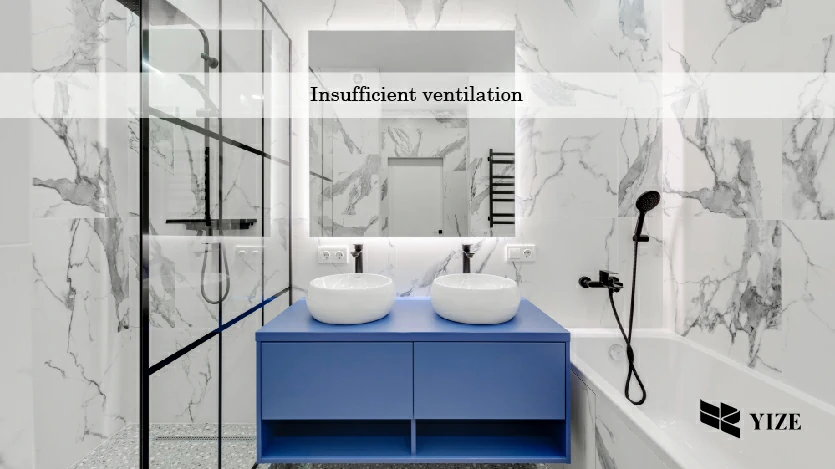 Without adequate ventilation, the moisture in the air can wreak chaos in your home. It can encourage the growth of harmful bacteria, mold, and mildew. These may lead to different implications for your health.
Mistake 4. Lack of storage space
A bathroom is a place in your home where you can be comfortable and relaxed. But walking in an unorganized bathroom may stress you out. It is most likely due to a lack of storage space inside your bathroom.
A bunch of toiletry items inside your bathroom is not an eyesore at all. But only when they are organized and in proper storage. Make sure there are enough built-in drawers or shelves to store them. It would be easier for you to access what you need while maintaining your bathroom's neat appearance.
Mistake 5. Poor lighting
When there is poor lighting, safety is the most affected during nighttime. Poor lighting can increase the chances of falls and injuries. Since you do not have a clear view of the bath space, you may also bump into the sinks and other fixtures.
Your bathroom plays an important function when you are preparing for a day or a night out. These include daily activities like shaving, brushing your teeth, and putting on makeup. Thus, if there is poor lighting in your vanity, it makes basic daily preparation difficult.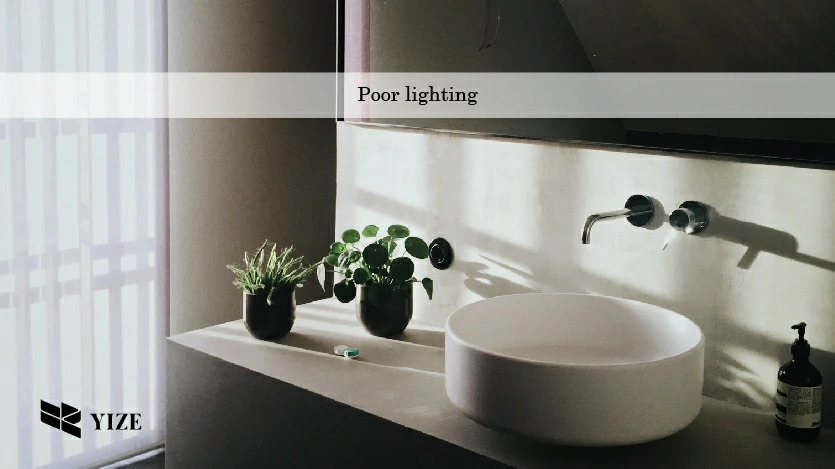 Mistake 6. No proper waterproofing
Bathrooms with insufficient waterproofing can result in a variety of major issues. These include plumbing corrosion, weakened electrical systems, and mold and mildew growth. In some instances, it also causes the rotting of timber floors and other structures.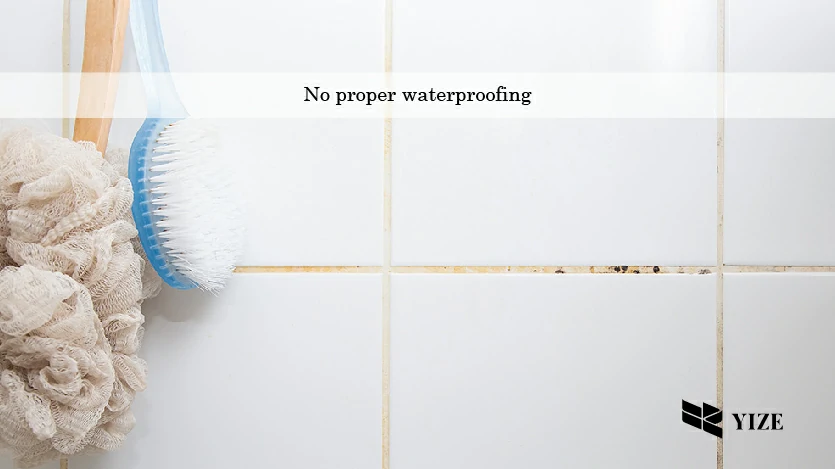 Proper waterproofing helps to stop water from leaking through any cracks or holes in floors and walls. Later on, it may prevent the need for structural repairs.
Mistake 7. Small tiles with complicated designs
Many homeowners update their bathrooms with small, sculpted tiles. This is not the most sensible option, though.
Because of all the grout that is used to build them, small, complex tiles need a lot more time to clean and maintain. You can consider utilizing small quantities of small decorative tiles.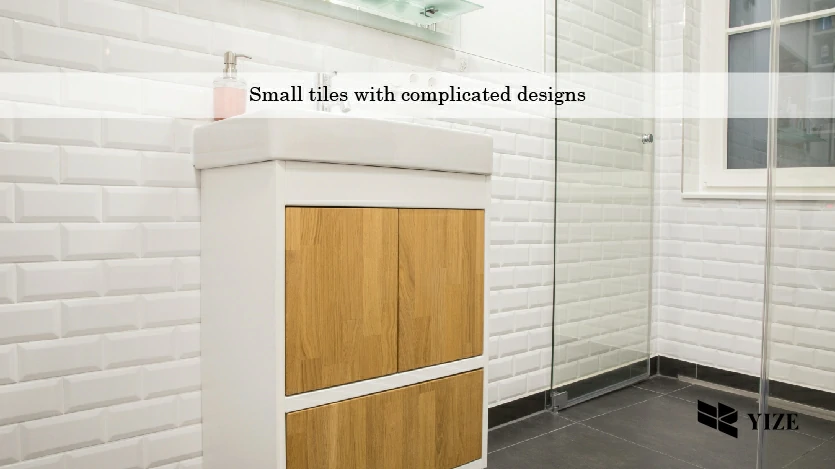 You can use those to highlight places in the shower or around the sink and vanity. This will prevent employing a large quantity of these sorts of tiles for whole tile projects.
Mistake 8. Mismatching bathroom features
Every element inside your bathroom adds to the style of your bath space. If they do not match, the design aesthetic of the space will become confusing and incoherent.
It is simple to give your bathroom a harmonious, well-designed appearance. You can do this by matching the hardware inside. You should find pieces that complement one another based on your design. This will be easier if the finish and texture are consistent.
Mistake 9. Hardwood flooring
Many people consider hardwood as a flooring choice to use in their homes. It never goes out of style as it provides an inviting and warm space. But it does not work well inside your bathroom.
The hardwood will distort over time. This is due to the moisture from showers, the sink, and other water-related problems. It could appear less inviting and attractive as a result. Repairing or replacing it might also be pricey. Choose tile flooring or water- and moisture-resistant flooring options.
Mistake 10. Exposed plumbing
One way of protecting the plumbing is to put it behind the walls. Exposed pipes are susceptible to accidental knocking, scraping, and bumping. If the impact is strong enough, a leak could result.
Cleanliness is a major concern for homeowners with exposed pipes. Exposed plumbing increases the number of surfaces needed to clean. Aside from that, the pipes may also obstruct cleaning efforts in some areas.
Mistake 11. Not segregating wet and dry zones
If your bathroom does not have proper segregation of wet and dry zones is also a common design mistake. It would often lead to a higher risk of mold and mildew growth. It would also be a challenge for you when cleaning and organizing your bath space.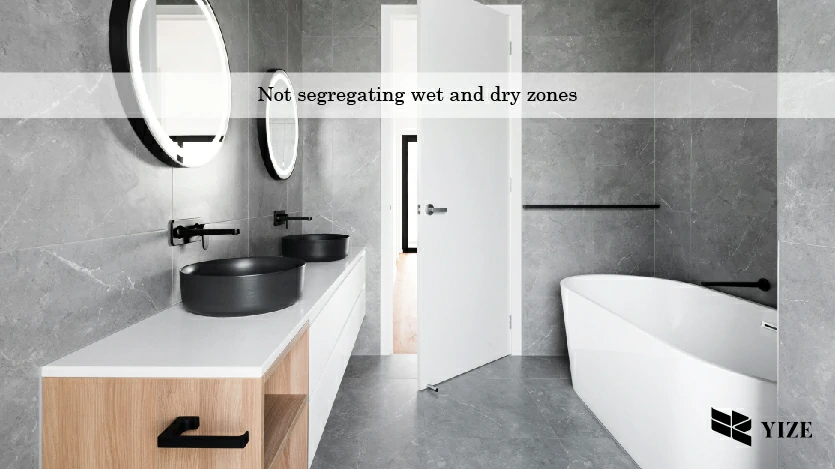 Mistake 12. Not placing the towel rack within reach
If you are going to position the towel rack near the shower, you will end up making it wet. If it is too far away, though, you could have to slog through the dry area while your feet are still drenched with water.
To dry off as you step out of the shower, place the rack right as you leave the wet area. Additionally, be sure to position the rack at a convenient height so that everyone can access it.
Mistake 13. Not leaving enough space between the toilet and the bidet
This is yet another mistake in bathroom design. Many people struggle to incorporate the toilet and bidet.
Oftentimes, many insist on arranging them too close to each other. This causes the issue to continue even when there is enough room. It feels crowded and uneasy as a result.
Mistake 14. Ending up with the toilet as the centerpiece
You should take into consideration the location of the toilet in the bathroom. It is as important as the placement of a window should be.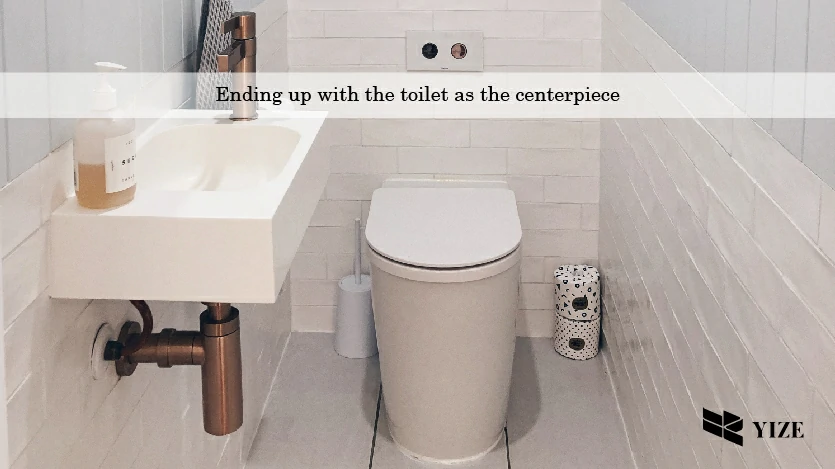 Even though a toilet is necessary for every bathroom, it does not mean it has to be the centerpiece of the space. When possible, avoid placing the toilet in a conspicuous spot or facing the bathroom door. Thus, it will not be the first thing you notice when you enter the bathroom.
Mistake 15. Selecting fixtures that are too big for the space
When constructing a bathroom, proportionality is a crucial factor to consider. Relaxing in a large bathtub after a long day would seem ideal. But things can become crowded if there is nowhere to clean around the tub.
You should also avoid placing it too close to the vanity or toilet. You need to take movement and cleaning space into account.
Mistake 16. Forgetting electrical outlets
Electrical outlets are often overlooked while designing bathrooms. They are not excluded, but rather their placement is incorrect. Take note of the current electrical layout of the house when designing a bathroom. For the convenience of use, electrical outlets are best placed next to the vanity. Having more than one power outlet in the bath space is also a good idea.
Mistake 17. Door hinges installed the wrong way
Designing it the wrong way may lead to inconvenience every time you walk in and out of your bathroom. If your door opens inwards rather than outwards, it can cause damage to the fixtures inside. This is because there is a high tendency to hit them every time you open and close the door.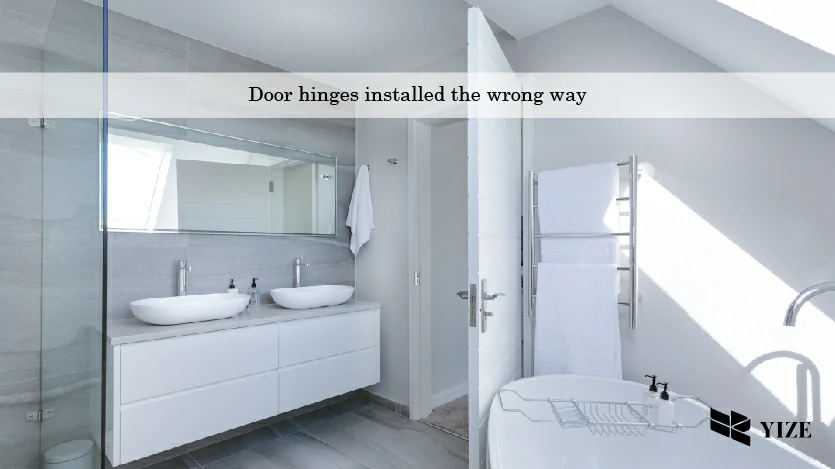 Mistake 18. Ignoring mirror installation
If you ignore mirror installation inside your bathroom, your space may feel cramped. The design of your bathroom will not be maximized and may seem dull without a mirror installed. Aside from that, having no mirror inside can also affect your daily activities. It will slow you down when you are preparing for a day.
Mistake 19. Generating a space free of personality
Some bathroom designs lack personality, making them dull and uninviting. It may also appear like you did not give your full attention and effort to designing your bath space.
This will make your space less organized since you won't see cohesion among its features.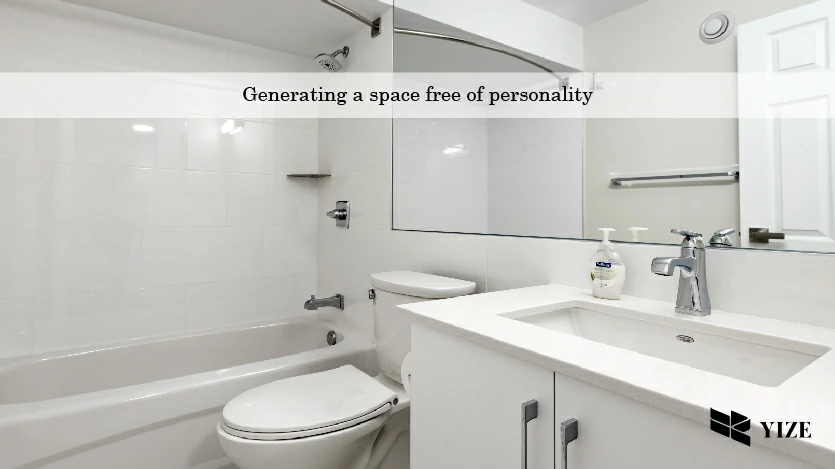 Mistake 20. Awkward vanity and shelf heights
If your vanity and shelves are placed in awkward positions, your bath space will seem smaller. This is also crucial when your shelves are above the sink. You will end up bumping your head on the shelves when you lean in to wash your face.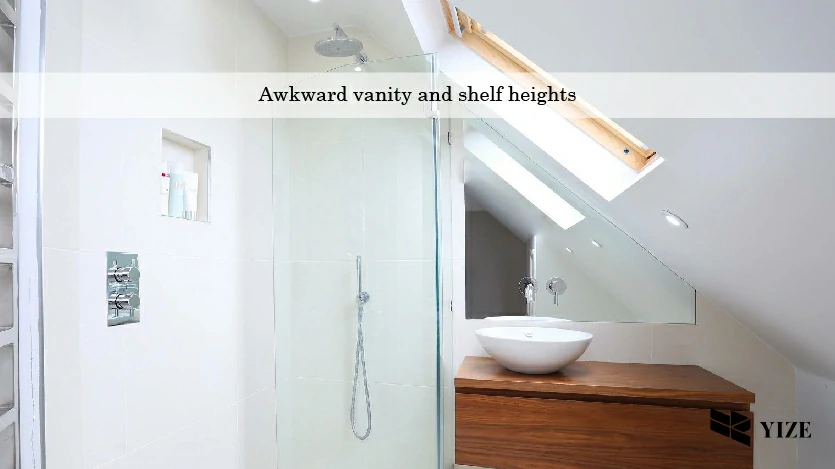 Conclusion
Most of the time, designing bathroom space can burn a hole in your pocket. But having to redesign it because of committing design mistakes is a different story.
Through this article, you have learned some of the most common bathroom design mistakes that you should avoid. This will guide you toward achieving a stylish and functional haven in the comfort of your home.