You should consider a few things while choosing countertops for bathrooms and kitchens. Granite is one of the best materials. Granite is often used for countertops in kitchens and bathrooms. It looks nice and lasts for a long time. Granite is a type of natural stone like marble. We recommend this sturdy material for use on kitchen and bathroom surfaces.
The beauty of granite is timeless, and it will never lose its shine or degrade in value. The granite cost is higher than other materials for bathroom countertops. But granite countertops make a home more valuable. Also, it will last forever with little care. This article will clear up the facts and help you understand the cost of granite countertops. There are also other things to think about when buying granite countertops. Let's start!
What Is the Cost of Granite Countertops?
The estimated cost to put granite countertops in a bathroom is $3,300. Most homeowners spend between $2,000 and $4,500. The price goes up with the size of the slab. Installers consider many things, like how heavy the slab is and how to cut out any flaws in the stone. But, installing granite tiles as opposed to a complete slab is one affordable choice. Tiles are much cheaper than slabs because they are made from smaller pieces of stone. Also, they can be set up above an existing countertop.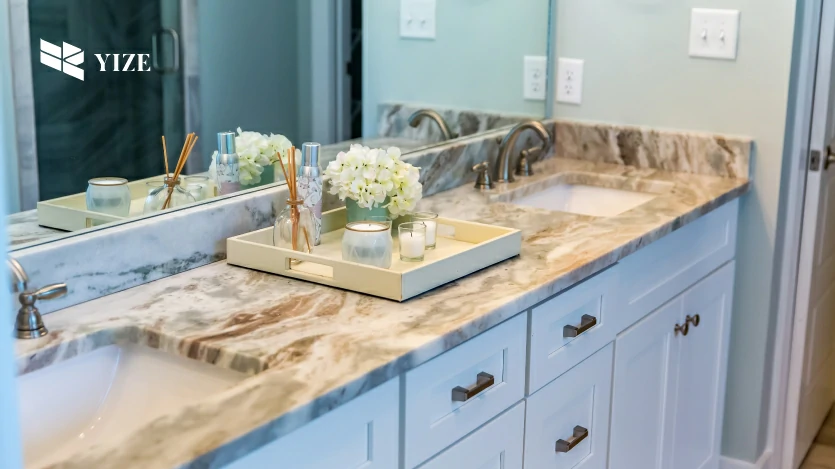 How Much Does Granite Cost Per Square Foot?
The granite countertop's square footage is necessary, like other renovation projects. The cost of granite countertops is usually quoted on a per-square-foot basis. The price per square foot ranges from $40 to $100. The labor expense must also be considered, which can range from $35 to $85 per hour. So, the price of granite countertops for a big kitchen is much higher than the price for a small bathroom.
It's clear that there's a wide range in the cost of granite for bathroom counters. Because unique colors and designs can cost more than more common slabs. The premium granites Blue Louise (a gorgeous blue stone). Also, Typhoon Bordeaux (an appealing blend of red and pink) are a good example of this. These can range from $65 to $100 per square foot in cost.
Cost of Granite Countertops by Type
As was already said, one piece of granite isn't always the same as another. Some choices are rarer and harder to find. Because of this, the square foot cost of these granite countertop options will be higher. If you want to know how much granite countertops cost by type. You should check out the list below, which has some of today's most widely known stones.
Alaska White
There are rivers of grey and brown on the Alaska white granite countertops. Because all-white bathrooms are so popular, this beautiful granite is now the standard. The price per square foot for this granite countertop is approximately $40.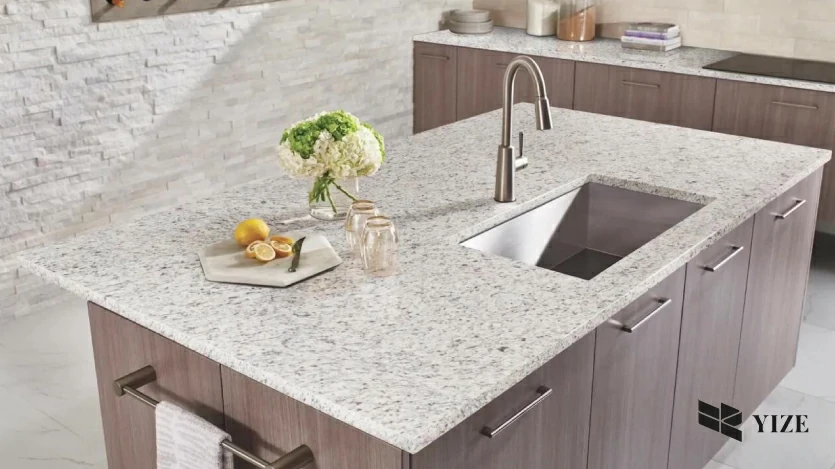 Ubatuba
This popular choice has beautiful black, gold, and dark green patterns. When paired with dark, luxurious cabinets, it makes a strong impression in a bathroom. On average, you can expect to pay $60 a square foot for Ubatuba granite.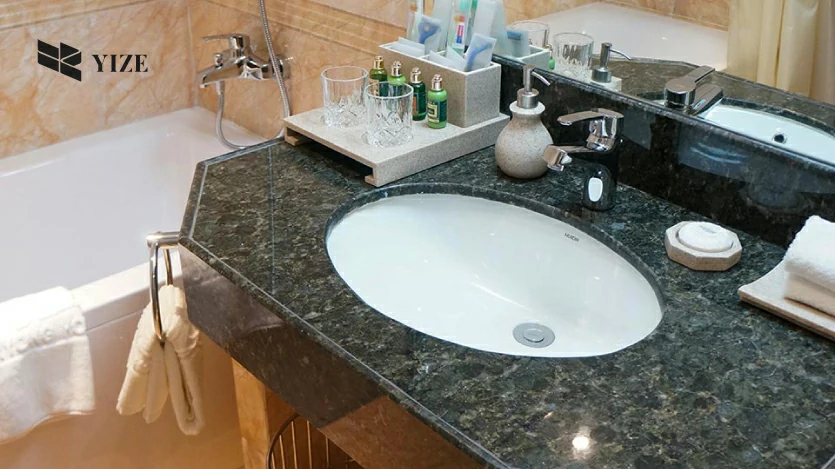 Silver Clouds
This granite gets its name from the way the grey and white textures look like clouds. This is a popular choice because it works just as well in dark bathrooms as it does in bright ones. Also, it works in kitchens with a lot of light. Silver Cloud granite is a bit expensive option, with a price of $55 per square foot.
Absolute Black
This Indian black granite is a stunningly stunning addition to any project. It looks fantastic both on the floors and the counters. If you decide to go with Absolute Black granite, be prepared to pay $40 per square foot for setup.
Black Galaxy
There are stunning flecks of shimmering bronze throughout. These days, many people choose granite counters made of the black galaxy. It is relatively expensive at $70 per square foot for a bathroom countertop.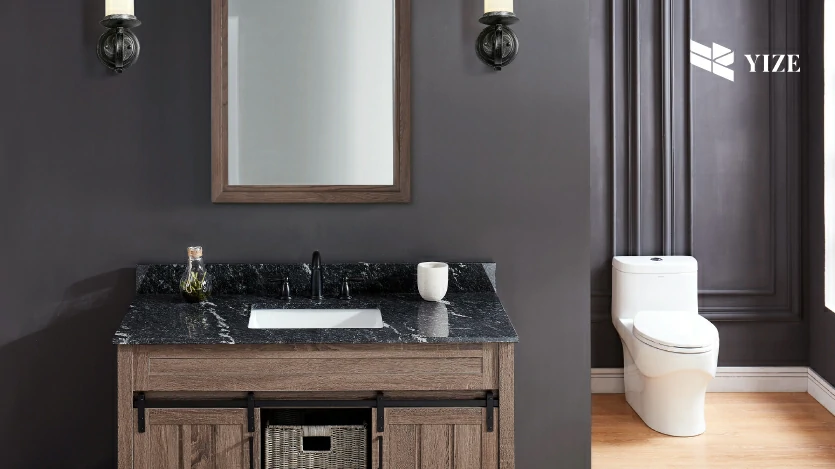 Solarius
Solarius is another very popular type of granite. It has a caramel color that is a combination of light and dark shades. It has the advantage of beautifully matching just about any color of cabinet you can think of. It has a lot of different shades in it, including yellow and black. You may expect to pay around $60 a square foot for Solarius granite.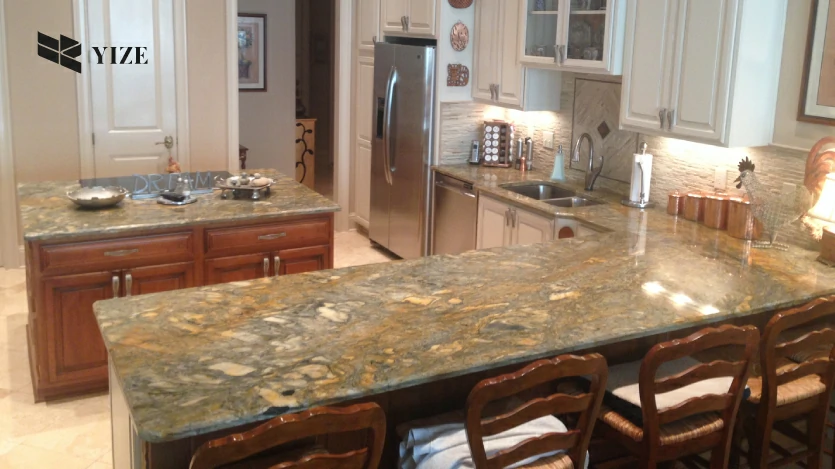 Crema Bordeaux
This fascinating granite has light pink, brown, dark black, and goldish hues. Because of this, it is an excellent choice for cabinetry made out of maple. Crema Bordeaux, which costs $80 per square foot, is one of the more expensive options.
Blue Louise
When you see this gorgeous blue-colored granite, you won't soon forget it. It makes any space feel both fun and classy. It is one of the most expensive granite slabs you can buy at about $100 per square foot.
What Affects the Price of a Granite Countertop?
The cost of new countertops depends on what kind of granite is used, how hard it is to install, and other things. Here are a few things that affect the price of a granite countertop.
Type of Granite
The price of granite counters varies widely based on the granite slabs used. Granite is a form of solid rock, but it is also available in a range of colors and qualities. High-quality granite could come from the area around the Mediterranean Sea. It has strange designs and bright or unusual colors. The price of high-end options might exceed $100 for each installed square foot. Affordable commercial granite is normally grey, black, or white. Also, it comes from India, Brazil, or Canada. These cost-effective alternates are available for as little as $40 per square foot. The price and beauty of medium-grade granite are somewhere in the middle. The cost per square foot for midrange alternatives ranges from $40 to $70.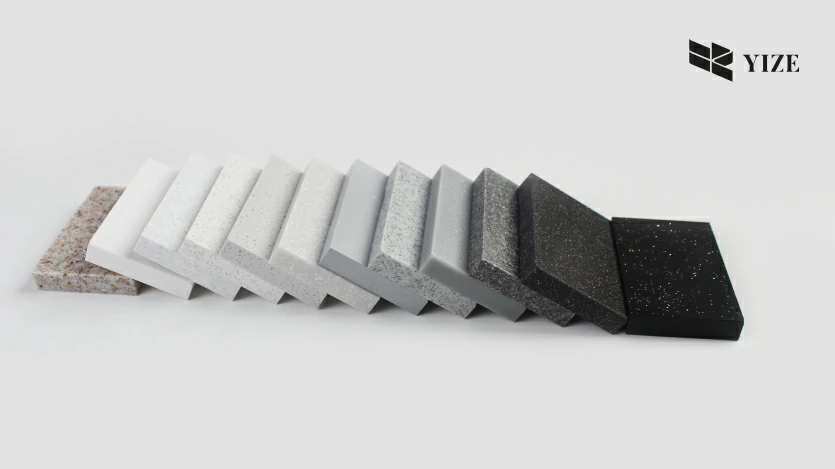 Size of Countertop
The cost of a countertop will vary greatly depending on its size. The cost of replacing your home's countertops increases with their size. The standard size for a kitchen counter in a standard American home is roughly 30 square feet. This figure differs from one house to the next because of the layout. Countertop space appears to be an ampler in larger houses. If you have a large bathroom or a normal-sized kitchen. Your granite countertop could cost between $2,000 and $4,500. A modest countertop costs $2,000, while a large one costs almost $4,000
The Thickness of a Countertop
The thickness of a countertop affects how much it costs. As a rule, thinner granite is of lower grade. Some countertop materials are available in three different sizes, but not all. The granite is available in 2- or 3-centimeter-thick sheets. Most of the time, the countertops that seem like thick granite slabs are usually thinner. Because feather miters provide dramatic edges on these granite countertops. The edge profile is crucial for these stunning pieces.
Edge Profiles
The granite countertop price also changes with the edge profile you select. Edges can have many different common profiles. It has many different shapes, like straight, bevel, bullnose, ogee, eased, and bespoke. Because they look and feel differently. You should pick the one that suits your tastes best. If the edge profile of your current countertop is narrow or small. Because of this, it's a good idea to think about getting granite countertops with a deeper edge. The countertop's edge may hit the cabinet drawers below, so this isn't always a good option. If you're looking for a granite finish for your kitchen or bathroom countertop. It's best to talk to the person who will be installing it about your options before buying.
Number of Cutouts
Sinks and cooktops require countertop cutouts. The countertop type, hole size, and design all affect how much a cutout will cost. You should expect to pay more for a granite countertop if it requires a lot of cutouts. Standard sink cutouts can cost anywhere from $100 to $500, with the average being $200. This amount is in addition to the fitting cost for the sink.
Installation When making a budget for a bathroom or kitchen remodel, one thing to consider is the materials cost. But, the expense of installing your countertops might increase the overall material cost. If you install your countertops on your own, you might save money on the cost of labor. It may be too difficult of an installation for the typical homeowner to manage. If you want to replace the counters, you'll need to take the old ones out and throw them away properly. The next step before putting in your new granite countertops is to measure, cut, and shape them.
Pros of Granite Countertops
Strength and resistance to heat
Granite countertops are fantastic because it's one of the toughest stones. Its nature makes the stone strong. Granite is scratch and stain-resistant thanks to its interlocking crystals. Granite is also very resistant to heat by design. Since magma deep within the earth heated and pressed the stone.
Cleaning is easy
Granite countertops are easy to clean, which makes them perfect for big families. The surface is acid-resistant and easy to clean. So, a Granite countertop is a good choice for your bathroom and kitchen.
Increased Property Value
Kitchens and bathrooms sell houses. So, 40% of real estate agents say you should update your kitchen and bathroom before you sell. Granite countertops are inexpensive and attractive. Granite makes your bathroom and kitchen more attractive and stylish.
Various colors, designs, and finishes Granite countertops are available in many different colors and designs. So you can find anything you like. You can choose from different colors and designs.
Conclusion
The natural look of granite makes them a good choice for both the kitchen and the bathroom. A home with granite counters is more attractive to potential buyers. When you think about how much granite countertops cost. It's helpful to know what other things affect the price. There is a wide range in price for granite countertops (from $2,000 to $4,500), with the average being $3,300. Labor rates range from $35 to $85 per hour. The material slabs typically cost between $40 and $60 per square foot. The cost of granite will also depend on its pattern, color, and quality.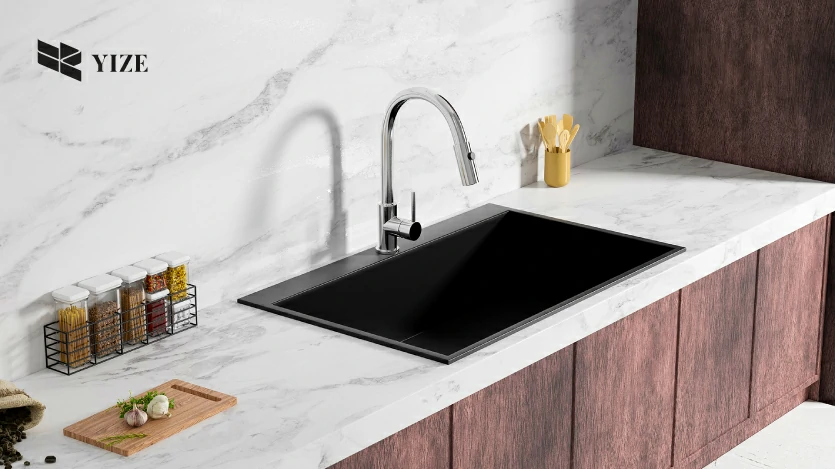 The project's total cost may be more or lower than the national average, depending on its size. How many countertops you need, how your kitchen or bathroom is set up, and the materials you choose. The most common types of granite are slabs, tiles, and modules. The pricey option is the slab, while the most affordable is the granite tile. Also, the price of installation is typically related to the grade of the granite. Installing premium granite countertops is usually less expensive than installing budget options. We hope our guide will help you choose new countertops for your bathroom and kitchen.